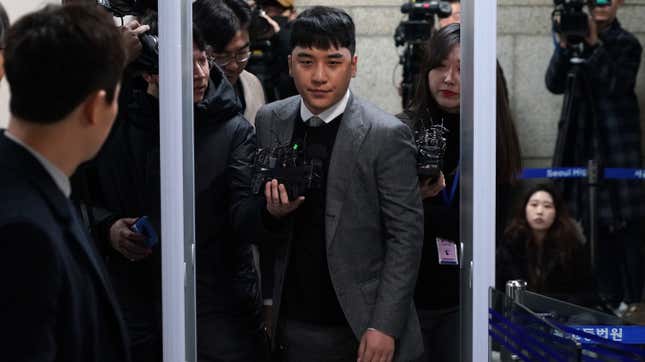 In March of last year, a criminal investigation colloquially dubbed "the Burning Sun Scandal" shook the K-pop industry. Seungri, a member of the massively popular boy band BIGBANG (consider them BTS well before BTS existed), was booked for allegedly supplying investors with "drugs and drug-addled women," as Variety reported, to have sex with for money, at the Seoul nightclub where he worked as a public relations director. He denied the allegations but immediately retired from the industry. In June, Yang Hyun-suk, founder of YG Entertainment—a prominent management company in South Korea, which represents Seungri/BIGBANG—also resigned from his CEO position following allegations that he used police connections to cover up his performers' drug scandals.

A slew of accusations followed, suggesting 40-some professionals tethered to Burning Sun engaged in drug crimes and filmed women in sexual situations without their permission, a crime known as molka. Now, nearly eight months later, there's a new update: Seungri was indicted last week, according to CNN, and will face charges of  "allegedly organizing prostitutes, habitual gambling, and illegal foreign currency trade," a representative of the Seoul Central Prosecutors' office told the media outlet.
On Tuesday, AP reported that Seungri may face trial in military court. In South Korea, able-bodied men are made to serve a mandatory two years, but they are allowed to delay it five times under certain circumstances (such as being in an internationally popular boy band) before they turn 31. Now 29 years old, Seungri postponed his conscription until March 2019, when the Burning Sun news broke. According to AP, South Korean news agency Yonhap reported that, "it's unlikely that the draft agency will accept another request by him to postpone his conscription over future trials in civilian courts." It is not currently known if Seungri has been officially drafted, but the expectation is that he will join the military later this month or early next.
Concurrently, BIGBANG is on the lineup for Coachella 2020, where the group is expected to make a comeback after a lengthy hiatus. Since Seungri officially retired from the industry last Spring, he won't be in attendance, but it will be interesting to see who, if anyone, takes over his role—or if fans will sit this one out in protest. 
Correction: A previous version of this post said Seungri was arrested for allegedly supplying investors with "drugs and drug-addled women," as Variety reported, in March 2019. He was not arrested at the time, he was booked during a police raid. Additionally, the headline has been changed to more accurately reflect the charges.