A track off of K. Michelle's upcoming album, Anybody Wanna Buy a Heart? has leaked and boy does it make you say: uuuhhh.
"Drake Would Love Me" is musical fan fiction that I'm sure young women all over the world have already been composing in their heads since Drake first started spinning moms around onstage and flashing that eager smile of his.
K. Michelle explained the song to Idolator in early November saying: "The song is about how girls see a photo of Drake or a video and think 'he would love me if we met,'" and you know what? I don't doubt that. Drake would probably love a lot of girls—that seems like a very specific personality trait of Drake.
"Drake Would Love Me" as well as the entire album is streaming on VH1. Lyrics include: "Drake wouldn't leave me, he would keep me, never break his promises / I'd be the best he ever had, he'd be on his best behavior."
She also reveled that Drake has heard the track and "gave his seal of approval," which, OF COURSE HE DID. What's he going to say? "Oh no, please don't write a song about how I'd be a tender, caring lover, thereby furthering the careful persona I've cultivated that has widened my appeal and made me millions of dollars."
G/O Media may get a commission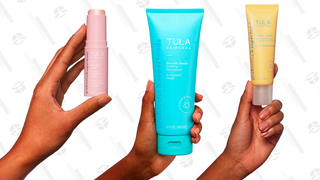 On the upside, the song itself is fiiiine and her voice sounds good but, girl. GIRL.
Listen, I understand how one could be seduced by the idea of Drake. Drake is the guy who charms you against all your better judgement and the next morning you wake up thinking: dammit. But this song is the musical equivalent of trying to stop your friend from sending a third drunk text to that guy she kinda hooked up with a month ago.
H/t RapUp.