Another Justin Bieber pet, another terrible, depressing story.
TMZ reports that trainer Trevor Dvernichuk was hired to help with Karma,a dog Bieber got last year and held an online contest with fans to help name him. Dvernichuk said things turned ugly when Bieber's dad Jeremy got angry when the dog reportedly bit his son Jaxon:
Trainer Trevor Dvernichuk tells TMZ ... Jeremy grabbed the dog and hurled him off the balcony into a snow bank. Trevor says Jeremy then told him to take the dog and not to bring it back until it was socialized.
Dvernichuk told The Sun the dog was given to him in February of this year but never picked it up. Bieber orginally got Karma in Canada in December of 2013, when TMZ also rightly predicted he would likely abandon the pet. If you're keeping count, this now the third time (that we know of) when Bieber has reportedly abandoned a pet he made a big fuss over on social media. (Remember the hamster he gave away and the poor monkey abandoned in Germany?) However, the Inquisitor makes the case that Bieber got the dog as a companion for his dad, who should take the heat for abandoning the dog and not the pop star. The biggest issue I see with that is that Jeremy Bieber himself referred to the dog as Justin Bieber's "new puppy" on Twitter, not "the dog my son got for me."
The dog has been with the Dvernichuk for most of this year, and while he's willing to give it back, he told TMZ he expects to be paid for caring for Karma all this time. For his part, Jeremy Bieber disputes most of the claim:
But Jeremy pitched a fit after Trevor started telling people that the dog was flat out abandoned. Jeremy now says Trevor stole the dog and he's getting the cops involved. Trevor originally told us ... he's concerned about the dog's welfare because of what Jeremy did, but he doesn't want to get in trouble with the law so now that he knows Jeremy wants the dog back he's willing to return it. However, on TMZ Live stated lawyers will be getting involved and he may want some money for his services and the care of the animal.
The whole thing is an awful mess and yet another poor animal is caught in the middle of all this. Here is a pic of Karma taken last year from Jeremy Bieber's Instagram:
G/O Media may get a commission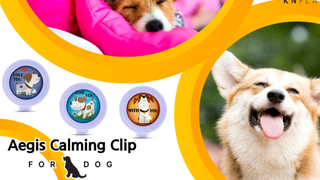 20% off
Aegis Calming Clip for Dogs
?utm_source=partner&utm_medium=embed&utm_campaign=photo
Hopefully, Karma will find a happy, safe home someday.
[TMZ]
---
Image via Getty.