OK, this one's a quickie. (For multiple parties involved.) Page Six spoke with someone who claims they saw America's favorite Canadian ex-boyfriend of Selena Gomez, Justin Bieber, getting a massage (and perhaps more??) at Aire Ancient Baths in TriBeCa Tuesday afternoon.

I'm just going to share the best part of the story exactly as they wrote it, because who am I to maim perfectly crafted language like this?
At around 3 p.m., a spy said that Bieber was at the spa — "next to one of the pools getting massaged by two very large, strong men," and he was "moaning for all to hear."

The Biebs then made small talk with a woman getting into the pool and went back to his massage.
To book a massage at Aire Ancient Baths, call 212.274.3777 or email booking@ancientbathsny.com.
[Page Six]
---
One thing TMZ likes to do every now and then is give a worthless story about a C-lister the kind of journalistic attention Woodward and Bernstein's dimwitted second cousins once removed would have given Watergate, making the end result a long, nearly incomprehensible piece of celebrity news that's sort of impossible to make heads or tails of.
G/O Media may get a commission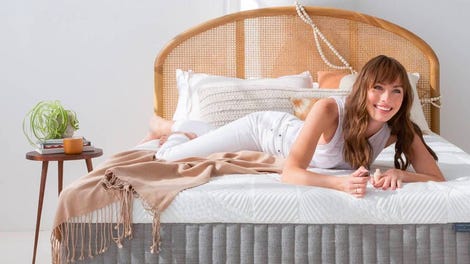 Sleep Sale
Sleep Sale - Brentwood Home
An example of this odd and TMZ-specific brand of celebrity reporting can be found here, in this post about Hayden Panettiere's dogsitter Tia Brooks who may or may not have overcharged Panettiere for years of work, only to give the dogs away in the end.
Like, uh:
[Lawyer Marty] Singer claims Tia put an ad on Craigslist last month, found a home but continued billing. Tia disputes it and says her bills were all legit.

Get this ... according to Singer's letter, Tia's been caring for the dogs for 6 years, charging a grand total of $119,335.88!!! As for how the bill got so high, Singer claims, in addition to the daily fee, Tia tacked on all sorts of extras, including dog bones, bug spray, tick control, dog beds and other stuff.
"Get this." Honestly, you'll understand it even less after reading every word, and I mean that as a compliment.

[TMZ]
---
Look who's on the cover of my favorite periodical, Cupcake Magazine!

[Ali Luvs]
---