Speaking Saturday night to an audience at the University of Chicago Law School, superfly liberal Justice Ruth Bader Ginsburg indulged in a little judicial pessimism when she suggested that the Roe v. Wade rule by her Supreme Court predecessors was too broad, and, rather than safeguarding abortion rights for future generations of women, has instead served as a rallying point for abortion opponents.
Ginsburg, whose career retrospective in a recent issue of The New Yorker may foretell her approaching retirement from the Supreme Court, has offered similarly dubious opinions about Roe v. Wade before, but Saturday's direct criticism of the 40-year-old ruling came as something of a surprise to an audience expecting a more rousing endorsement of reproductive rights. According to the AP, Ginsburg's comments focused mainly on how Roe v. Wade has given abortion opponents a clear "target" in their state-by-state campaign to heap more restrictions on abortion providers.
From the AP:
"That was my concern, that the court had given opponents of access to abortion a target to aim at relentlessly," she [Ginsburg] told a crowd of students. "... My criticism of Roe is that it seemed to have stopped the momentum that was on the side of change."

The ruling is also a disappointment to a degree, Ginsburg said, because it was not argued in weighty terms of advancing women's rights. Rather, the Roe opinion, written by Justice Harry Blackmun, centered on the right to privacy and asserted that it extended to a woman's decision on whether to end a pregnancy.
Four decades later, abortion is one of the most polarizing issues in American life, and anti-abortion activists have pushed legislation at the state level in an effort to scale back the 1973 decision.

Ginsburg would have rather seen the justices make a narrower decision that struck down only the Texas law that brought the matter before the court. That law allowed abortions only to save a mother's life.
G/O Media may get a commission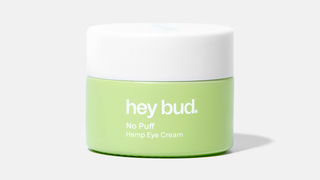 15% off
Hey Bud - No Puff Hemp Eye Cream
Ginsburg further added that the Court seemed to get out "ahead" of the legislative process instead of making a more "restrained" ruling (like just striking down the Texas law allowing abortions only in the a case where the mother's life was in jeopardy) would have given the grassroots momentum to pro-choicers at a time when states were just starting to liberalize their own abortion laws. The AP went on to draw a comparison between Ginsburg's preference for "judicial restraint" and the Court's impending decision about same-sex marriage, though Ginsburg herself didn't raise the issue.
Instead, she offered a little bit of hope after her criticism of Roe v. Wade, saying that even a "worst-case scenario" in which the decision is overruled would fall just short of apocalyptic: "Suppose the decision were overruled; you would have a number of states that will never go back to the way it was."
Ginsburg says Roe gave abortion opponents target [AP]
Image via AP, Paul Beaty