The Department of Justice told CNN they've finally shut down a long, well-known, and very colorful mail scam, featuring a self-proclaimed French psychic named Maria Duval. Over two decades, the scam is said to have netted $200 million. But just who's raking in that cash remains somewhat murky: Duval's son said she herself is old, infirm, and "lost control" of her name a long time ago. Also, she may not actually exist.
Ana Gasteyer Satirizes the Girl Boss in 'American Auto'
CNN Money recently published an absolutely wonderful multi-part investigative series about the scam recently and about Duval herself. For years, someone by that name headed a company called Astroforce, which placed ads in magazines, newspapers, and sent direct mail to customers, claiming an incredible track record of psychic success and promising all kinds of help in return for $$$.
Mail fraud scams target particularly vulnerable people: the elderly, the infirm, the lonely and the gullible. The Department of Justice was particularly unamused by this one, saying in 2014 that they'd served an injunction against Duval and a sidekick named Patrick Geigen, ordering them to stop sending "worthless" talismans to people seeking their services.
From a DOJ press release, a glimpse into what the letters looked like and the promises they made:
The complaints allege that in the letters, the purported psychics state that they are contacting the recipient based on a specific vision or psychic reading revealing that the recipient has the opportunity to dramatically improve his or her financial circumstance, including claims of winning millions in the lottery. The solicitation letters appear personalized, repeatedly referring to the recipient by first name and often containing portions that appear handwritten. The solicitations urge victims to purchase various products and services in order to ensure that the foreseen good fortune comes to pass. The complaints allege that in reality, the solicitations are identical, mass- produced form letters. Victims responded to the solicitations by completing a form and submitting a payment, usually around $20 to $50, via U.S. mail. Victims often also wrote personal, handwritten letters back to the purported psychics, which were never opened, and received worthless, mass-produced trinkets and further solicitations after sending these payments.
G/O Media may get a commission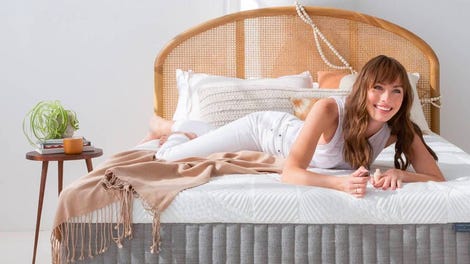 Sleep Sale
Sleep Sale - Brentwood Home
But the CNN investigation raised questions about whether Duval actually exists; attorneys who represented her told CNN they'd never met or spoken to her. A blonde woman with some very impressive lip enhancements has been represented as Duval and can be seen on YouTube, answering questions about her psychic abilities.


But CNN ultimately concluded that Duval is real, tracking down a man named Antoine Palfroy who says he is her son, and who said that she'd sold her business to an unscrupulous Swiss company decades ago:
He said that there is no question his mother is a real psychic, and that she started out intent on helping others — even working with police to find missing people.

But this all came to an end when she sold the rights to her name to Swiss businessmen more than 20 years ago, he said. At first, the business sold astrology charts, he recalled. But as the men behind the operation got greedier, the business model changed and the mass mailings in her name began.

He claimed his mother was very upset about the letters, but there was nothing she could do. When we asked why she has defended the letters in the past, he said she had signed contracts preventing her from disparaging the business in any way.
Duval herself—if she is in fact a real person—didn't do much to dissuade people from thinking she still headed the operation. A YouTube video posted in 2009 features Duval merrily talking about working in "mail correspondence" and insisting her psychic abilities still work well even after being wrung through the U.S. Postal Service. It's unclear when the video was shot, but Duval says in it that she's been working with a team of trained "collaborators" for the past ten years:
The DOJ announced Monday that they've obtained a permanent consent decree against Duval, Guerin, and several related individuals and companies, barring them from plying their psychic wares in the United States. They are no longer allowed to distribute "any advertisements, solicitations or promotional materials on behalf of any psychics, clairvoyants or astrologers," the Department said. The Postal Service also now has license to inspect mail being sent to the company from the United States and return any money or personal checks.
---
Maria Duval or "Maria Duval." Screenshot via YouTube/gd2use