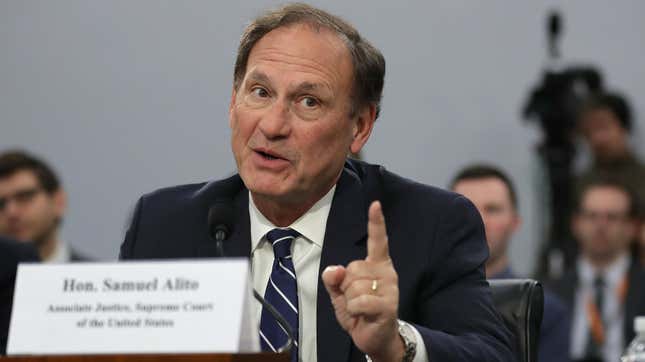 Update 6/21/23, 9:20 am: ProPublica published its story late Tuesday night. Read more about Alito's 2008 Alaskan fishing trip.
What Questions are Senators Asking Ketanji Brown Jackson About Abortion?
It seems that ProPublica—the investigative outlet that outlined how Supreme Court Justice Clarence Thomas had taken hundreds of thousands of dollars in luxury travel and other gifts from a Texas billionaire—has recently been looking into Justice Samuel Alito, and Alito is not happy about it. The justice is so upset, in fact, that he took to the opinion pages of the Wall Street Journal to issue a rebuttal to a story that hasn't even run yet—which is absolutely wild behavior for a man in his position.
We don't know all the accusations yet as, again, the story hasn't been published, but Alito says ProPublica will make the case that he should have recused himself in cases where Paul Singer, a billionaire hedge fund manager, was connected to an entity that had business at the Supreme Court. Therefore, he should have listed gifts from Singer on his 2008 disclosure forms. Alito disagrees with these claims, saying that he didn't know Singer was connected to any cases before the court because his ties were through shell corporations, like LLCs. He also attempts to explain that it's totally fine and normal for him to have accepted a seat on private flight to Alaska and a stay at the King Salmon Lodge for a 2008 fishing trip. Why? The private jet was already flying there, and the lodge was "modest" and "rustic" and only served "homestyle" food. I'm serious. I truly have to print Alito's reasoning:
In brief, the relevant facts relating to the fishing trip 15 years ago are as follows. I stayed for three nights in a modest one-room unit at the King Salmon Lodge, which was a comfortable but rustic facility. As I recall, the meals were homestyle fare. I cannot recall whether the group at the lodge, about 20 people, was served wine, but if there was wine it was certainly not wine that costs $1,000. Since my visit 15 years ago, the lodge has been sold and, I believe, renovated, but an examination of the photos and information on the lodge's website shows that ProPublica's portrayal is misleading.

As for the flight, Mr. Singer and others had already made arrangements to fly to Alaska when I was invited shortly before the event, and I was asked whether I would like to fly there in a seat that, as far as I am aware, would have otherwise been vacant. It was my understanding that this would not impose any extra cost on Mr. Singer. Had I taken commercial flights, that would have imposed a substantial cost and inconvenience on the deputy U.S. Marshals who would have been required for security reasons to assist me.
Look, Alito even saved the U.S. taxpayers money by not needing security on this private flight!
But as ProPublica's previous reporting notes, the "personal hospitality" exemption for what justices have to disclose has never applied to transportation, meaning private jet trips should have been disclosed. And food and lodging has to be declared unless someone is hosting a justice at their own property. Perhaps Alito and Thomas were following the advice of the late Justice Antonin Scalia, who took hundreds of free trips.
Alito definitely didn't have to write this. As Jay Willis, the editor in chief of the legal publication Balls & Strikes, wrote on Twitter: "ProPublica emailed some questions for a story to Sam Alito and instead of answering the questions or just ignoring the email, he ran to his little gremlin friends at the WSJ Opinion section and wrote a blog post about it." This is all extra nuts because the court still has 18 opinions left to release before wrapping up for the summer, when the justices will no doubt take their little trips to Italy and boarding their "friends'" superyachts.
A few weeks ago, Alito gave an interview to the WSJ opinion pages decrying criticism of the court and protests that erupted last year after, ahem, someone leaked Alito's draft opinion in the Dobbs case. (Mind you, Alito allegedly leaked a 2014 decision to conservative donors and the WSJ editorial board sure seems to have a good read on the court's inner workings.)
Alito told the paper: "We are being hammered daily, and I think quite unfairly in a lot of instances. And nobody, practically nobody, is defending us," he said. "The idea has always been that judges are not supposed to respond to criticisms, but if the courts are being unfairly attacked, the organized bar will come to their defense. [Instead], if anything, they've participated to some degree in these attacks."
Alito appears to have decided that he will continue using a conservative op-ed page as a vehicle for defending the worst behavior of this 6-3 court, and the paper has decided they will give him the platform to say whatever he wants.
ProPublica gave Alito until noon Tuesday to respond to a list of questions, and we'll be covering their report whenever it drops.