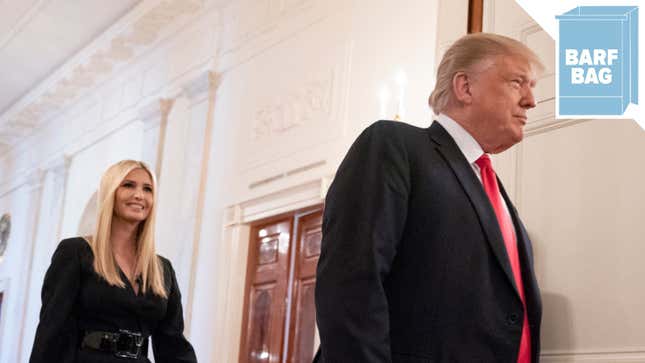 Guess how much Diet Dr. Pepper I've had this week.

Here's all the shit we couldn't cover today:
Ivanka compared her dad to Thomas Jefferson, which oddly works, but not for the reasons why she thinks it does:
Oops, should've done more than look up "inspirational quotes by Thomas Jefferson," Ivanka!
Ivanka was referring obliquely to the House vote on impeachment, which passed 232 to 196. [New York Times]
Which must have come as a shock to Kellyanne:
But not to this dude. [Politico]
Well, this keeps happening.
Because I love y'all and want to end on a good note—it's always nice when a union wins, isn't it? [Chicago Tribune]
Here are some tweets the president was allowed to publish:
This has been Barf Bag.