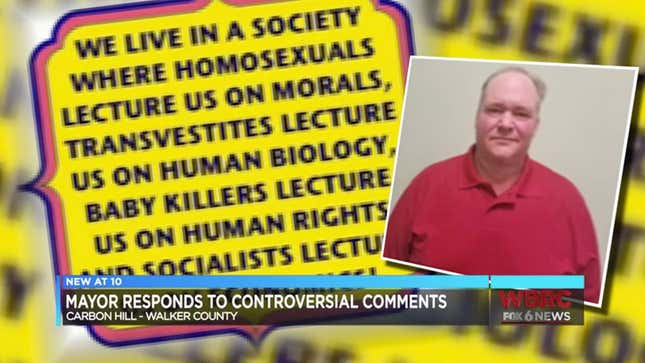 Last week, Mark Chambers, the mayor of Carbon Hill, Alabama, shared an image on his Facebook page that read, in all-caps, "WE LIVE IN A SOCIETY WHERE HOMOSEXUALS LECTURE US ON MORALS, TRANSVESTITES LECTURE US ON HUMAN BIOLOGY, BABY KILLERS LECTURE US ON HUMAN RIGHTS AND SOCIALISTS LECTURE US ON ECONOMICS."
SOUNDS LIKE AN OKAY WORLD TO ME!
In case the post wasn't clear enough on just where he stands on the issue of LGBT rights (or abortion, or socialism), after a friend commented that it "will take a revolution" to change society, Chambers then replied, "The only way to change it would be to kill the problem out. I know it's bad to say but with out killing them out there's no way to fix it."

Happy Pride!
Chambers's post caught the eye of a local television station in Birmingham, which reached out to him on Monday. Chambers did not deny sharing the initial, extremely bigoted and dumb post, but he did deny posting the comment about "killing them out." "I don't think I posted that," he told WBRC. "I think that's somebody else's post."
Unfortunately for Chambers, the news station had taken a screenshot of the post: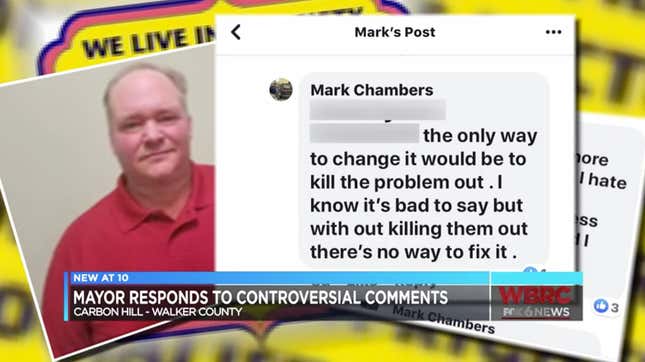 Shortly after, Chambers changed his tune, and told WBRC that he had meant it to be a "private" message, despite posting it very publicly.
He then helpfully clarified what he meant. From WBRC:

During the call, Chambers spoke about immigrants, calling them "ungrateful." Chambers claimed immigrants were taking over the country and voiced his comments were in response to a civil war happening in the United States.

Chambers went on to defend his comments.

"I never said anything about killing out gays or anything like that," Chambers said.

We read the post from Chambers' page back to him.

"That's in a revolution. That's right! If it comes to a revolution in this country both sides of these people will be killed out," he said.
Nothing to see here, y'all—he was just referring to what will happen during the coming civil war, in which HIS side will kill the other side, which is apparently made up of all LGBT Americans, abortion seekers, and socialists. Got it.
On Tuesday, Chambers issued an apology of sorts, writing on his Facebook page, "Although I believe my comment was taken out of context and was not targeting the LGBTQ community, I know that it was wrong to say anyone should be kill [sic]." He continued: "There are not enough words for me to express how much a [sic] regret posting that comment." No word, however, on whether he regrets being a bigot.