What I remember about the Juneteenth of my girlhood is the sound of music and how our parents could cha-cha all night long. I remember Mr. Stroke's face in the light of the fire pit at night and how Uncle Robert's brisket would shoot juice when you bit into it. I remember the shade-tree stories about some hundred plus years ago. About chains, forced labor, and withheld freedom. And I remember that when it came to Juneteenth, unlike most other days, we looked to the men. That was unusual for small town Texas in the 1980s, because our lives weren't built that way. We lived inside a system built against seeing them at all.
For some Americans, Juneteenth is a new holiday, but I grew up in Texas, where Union soldiers sailed into Galveston in June of 1865, bringing news of freedom to formerly enslaved Texans more than two years after President Abraham Lincoln issued the Emancipation Proclamation, which established the freedom of more than 3 million enslaved people living in Confederate states. Many communities began holding Juneteenth festivals and celebrations as early as 1866. After emancipation from enslavement, my family migrated to Texas from various parts of the U.S., making homes across the state before heading west and settling in the Panhandle region.
I spent half my childhood in East Lubbock, where families celebrated the holiday together, informally, and relatives came from out of town. We celebrated in a city that hadn't wanted us to begin with; a city that had, over time, grown fat from cattle and farming and cotton and oil and railroads, but left us, its Black citizens, broken and skinny, torn and tossed aside. A city where, in 1923, white residents drafted an ordinance to keep us contained in an area surrounded by industrial zoning and detrimental environmental conditions; a city that built a barrier to hide us. This town cared little about our freedom or the celebration of it. But even those who moved away came all the same, for our mothers and their mothers—it was the only home they knew.
In We Real Cool, the late bell hooks wrote that, in America, the oppression and subjugation of the Black male figure is situated within the promoted "power" or presence of Black women by what hooks calls a "white supremacist capitalist society." Essentially, this system sets up a false sense of power for Black women and emasculates Black men. Many people in my community were broken by this system. Some of the broken were men, and some of those men gave up. Others doubled down and worked harder to provide, which meant they were absent just as much as those that the system beat.
From her girlhood, my mother remembers her male counterparts cutting out of Lubbock altogether. Often, they left and spent time away from home, moving from town to town, city to city, state to state, in search of work and better resources and opportunities, returning occasionally to spend time with families they left behind. One of her favorite uncles was a drifter; he left in the 1960s, lived his life on the road full time, and never had a consistent address. "When we didn't see him after '85," she told me. "We knew he was dead." Like my mother's, my childhood was filled with transient uncles, cousins, and friends, who all treated home like a prison they'd escaped.
---
What's true in my family is that we know the women's names. To hooks's point, across the years, the women were constant. When the Juneteenth celebrations belonged to families, the women held the holiday together. The venues were their churches and their homes. Their voices, their stories were the ones we heard. Juneteenth belonged to them. The men were there too, manning the smokers or gathered in their own areas, where they drank and laughed. But because their work was for years less visible, it seemed that the men weren't present or contributing at all.
They were.
When they weren't at the smoker, they were out there working, yes sir-ing in the warehouses, factories, slaughterhouses, cottonfields, railroads, and all the other places we couldn't see. By the time we saw them, they were often uniformed and tired. Some of them were diligent about their lawns and short with their words. They sat quietly in corners of rooms when they were present. Sometimes they listened and sometimes they snoozed. In hindsight, they were beat down, spent by the time they returned to us each day. They had nothing left to give us, so they became nothing to us, and that is why they have no place in our stories. This is hooks's "white supremacist capitalist society" at work. At times, there was tension that rose from this between the men and women. I was always proud of my grandparents because they shared a bedroom and we knew so many others from their generation before them didn't speak to each other at all.
When I was 8, in 1984, the men emerged from the shadows. Joe Hatchett, a truck driver, founded Lubbock's Juneteenth Senior Citizens Picnic Committee, which later became the Juneteenth Committee. According to Robert Hines, a one-time committee president, the group wanted to honor the elders, the old ways, and to recover the early traditions: In the 1860s, Juneteenth celebrations included inspirational and informational speeches, prayer services, readings of the Emancipation Proclamation, bondage stories from the formerly enslaved, food, music and dancing, and other activities. Interests in these traditions dwindled during the mid-20th century, and Hatchett and his committee resolved to do what they could to create a community-wide celebration of freedom that reflected these roots.
Hines, Hatchett, and several other men—including one of my uncles—forged a goal to "feed the people'' in what they thought were the most significant ways: They wanted to teach the coming generations about those before them and how to honor them. They wanted to sit with the elderly, and listen to their stories. For decades, the Juneteenth Committee planned and fundraised year-round to bring the community a celebration with no admission fee. These men became professional caterers, sandwich sellers, and donation pick-up agents. They connected with Frito Lay, United Supermarket, the Black Chamber of Commerce, and other organizations for support.
When I asked her what the women thought after the men stepped into the organizing spotlight, my mother smiled like she was gone to another time. She said they didn't mind moving in the shadows for that brief period once a year. "Holding them up was holding us up too," she said.
As I recalled my own memories of these two-day celebrations—two days of recognition, stories, and laughter from the men—it all came back to me. How busy they'd all be, just before the celebrations. It wasn't just the men. The women worked too. There'd be cake and pie baking, potatoes boiling, eggs deviling, ice cream making, and all kinds of sides that the smokers couldn't possibly catch. They'd be handling us, the sick and shut-in, the church, the homes, their own jobs, and everything in between. The grandmothers and mothers and wives and daughters and others were all somewhere holding it all together, just as they always did.
By the time the Juneteenth Committee's long-awaited celebration came around, the production put on at Mae Simmons Park was glorious. The entire city was invited to attend, and a good number of folks from outside the Black community showed up. The festivities ran from Friday afternoon through Saturday night. There was a family fish fry, a parade, and a BBQ picnic, which served as the main and final event. Long lines of people waited for brisket or hot link plates and all the refreshments and desserts we could carry. Over the course of those two days, we danced and played games and heard stories and laughed and ate and drank as much red soda as our bellies would hold. And we stood under the gazes of our mothers and our fathers and we felt loved and free and American.
---
Throughout the rest of the year, my uncles and great uncles who were involved in the organizing continued working their jobs, coming and going as they had before. They always, however, made time for Juneteenth meetings and events, and seemed to light up at the mention of anything having to do with that day. Sometimes we'd mention it just to know them; it seemed like the only way they'd see us.
Most of the men from the original committee are no longer alive. They hosted their final Juneteenth in 2010, after which a city-wide effort took its place. The spirit of the celebration has changed. It no longer feels like ours. To promote inclusivity, the parade has been rerouted from the Black community to one that begins at the center of the city. Vendors have to pay a registration fee, and attendees understand that if they don't bring their own food, they should have enough money to carry them through the events.
At first, I was bitter about what I saw as the gentrification of Juneteenth. I thought about the offering of the men and women of East Lubbock, what they sacrificed for our Juneteenth across all those years. I thought about how important it had always been; how free it had always been; how happy we had been at that first Mae Simmons celebration. Then last year I saw a photo on a family member's social media page. Their child was at Lubbock's annual Juneteenth parade, smiling wide. My family no longer makes the journey to attend, but I'm glad that the child is celebrating Juneteenth. Is celebrating freedom. I'm grateful for what the men and women of East Lubbock started in their various ways, and hopeful that all who attend these days can see the love that was seeded into this tradition of celebration.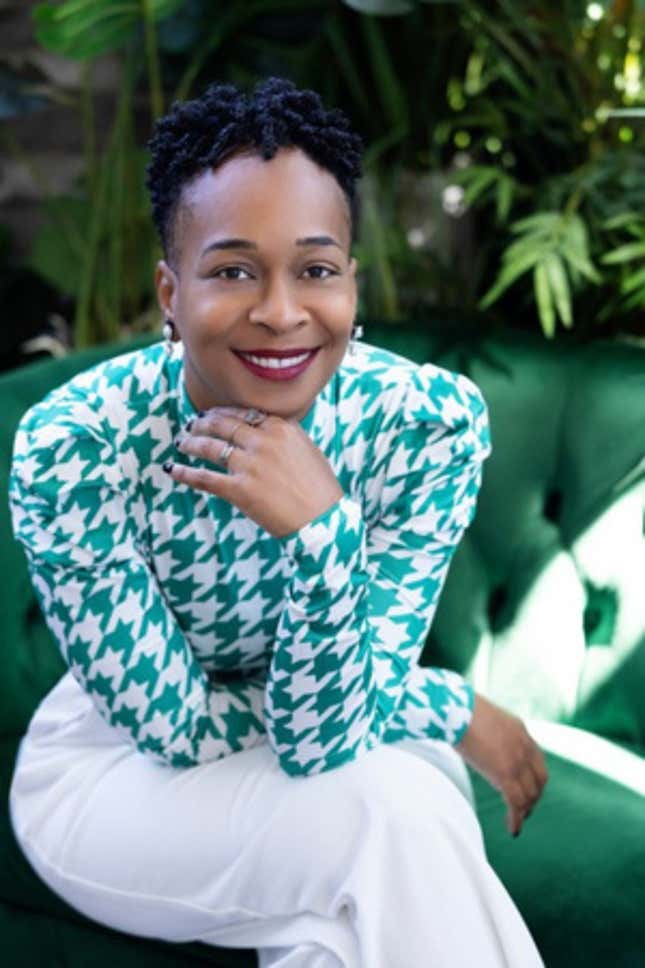 We've gone back to our intimate family Juneteenths. We don't travel to Lubbock; it stopped feeling like home when my grandmother died, even though my grandfather outlived her. My mother organizes us: We call out from work, fire up the grill, and tell stories about family as far back as we can go. We try to trace the lines on the family tree I've been mapping and we marvel at how far we can trace the women, how much we know of their stories. We never wonder why we don't think of our men as home.
If my mother leaves the Earth before me, I know the family will look to me. I'll carry us until I'm no more and then another woman in our family will take my place. I welcome that as a holy thing. I welcome it as the order of things.
LaToya Watkins lives, writes, and teaches in a suburb of Dallas. Her debut novel, Perish, was published in 2022, and her new short story collection, Holler, Child, comes out on August 29.