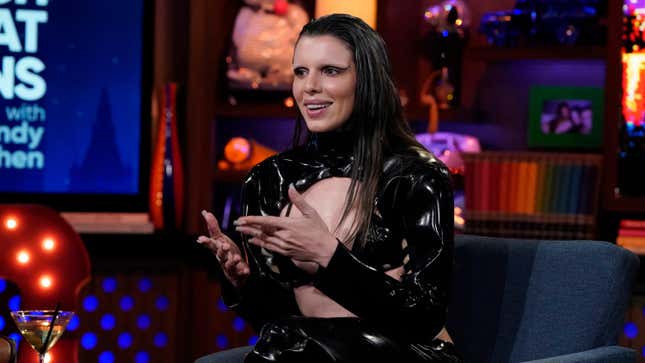 Actress and eyeliner icon Julia Fox said the pressure to breastfeed her son Valentino made her feel "defective" when she was unable to produce enough breastmilk. "I just felt like faulty goods, you know—like less of a woman, less of a mother. I did," Fox said in a TikTok posted on Tuesday.
"My breastfeeding journey was really shitty," she said. "It just didn't work. I tried so much. I would pump every couple of hours, and I did all the things, and there would be just one little drop of milk. And I really thought, like, 'Oh my god, I'm defective. Like, what's wrong with me, I can't do this basic thing that my ancestors have probably been doing for millions of years.'"
Fox said she felt "guilty" for being unable to produce milk. Eventually, she was able to see it as both a blessing and just the path her version of motherhood would take. It's best to let her explain in full:
"I think that God knew that if I had to breastfeed, it would have been too hard for me, because I look at moms that do breastfeed and that is a very insane commitment, you know? My son was a couple of weeks old, and he could go spend the night at his grandma's house or his grandpa's house. And if I were breastfeeding, that would be very difficult, because I would need to pump. I would leak in my clothes. I wouldn't have been able to go back to work so soon. I don't know. Now in hindsight, I'm like, 'Oh, my God, it was protection, you know?' Because I think that I was already having such a difficult time in those months. That I think it was just —I don't know why I'm gonna cry right now—but I think yeah, now that I have the bigger picture, when I see the bigger picture, I'm like 'Oh my god, that was definitely a protective measure. Because I don't think I would have been able to handle it. It would have really consumed me."
Fox has previously spoken up—in an Instagram comment, her version of a policy speech—for people who are unable to breastfeed. Back in May 2022, if you haven't completely blacked out that time period, there was a massive baby formula shortage. It was a public health crisis that pushed parents to the brink.
That was the zeitgeist when Bette Midler felt it best to tweet: "TRY BREASTFEEDING! It's free and available on demand." How...unkind to suggest breastfeeding when parents were already struggling. Fox agreed, commenting, "Actually bette, a lot of women can't produce breastmilk."
Breastfeeding and formula feeding are both often used to shame new mothers, who already have it pretty rough. A parent's job is to make sure their kids are well-nourished, however they can. It's so fucking hard to tune out the noise, but please know I think you—aka anyone trying their best to feed their new baby—are doing a great job.