Two judges issued separate orders blocking Arkansas from going forward with a slate of seven executions hastily scheduled to be carried out over the span of less than two weeks.

Ana Gasteyer Satirizes the Girl Boss in 'American Auto'
On Saturday, U.S. District Judge Kristine Baker filed a preliminary injunction temporarily halting the planned executions, in response to a lawsuit filed by the death row inmates in question. Baker's injunction came just hours after that of an Arkansas circuit judge, who on Friday night issued an order temporarily blocking the state from using one of its lethal injection drugs until further notice.
In the 101-page order, Baker agreed with the inmates' argument that the occasionally faulty execution drug midazolam threatened their constitutional rights. From the order, via the New York Times:
"The threat of irreparable harm to the plaintiffs is significant: If midazolam does not adequately anesthetize plaintiffs, or if their executions are 'botched,' they will suffer severe pain before they die," Judge Baker, an appointee of President Barack Obama, wrote. She added that the men had "shown a significant possibility that they will succeed on the merits of their method of execution claims based on midazolam."
G/O Media may get a commission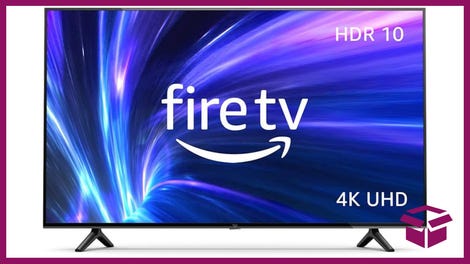 42% Off
Amazon Fire TV 50" 4K Smart TV
In response, the Arkansas attorney general's office wasted little time in declaring its intention to appeal the ruling.
"It is unfortunate that a U.S. district judge has chosen to side with the convicted prisoners in one of their many last-minute attempts to delay justice," Judd Deere, a spokesman for A.G. Leslie Rutledge, told the paper. "This decision is significantly out of step with precedent from the Eighth Circuit and the U.S. Supreme Court."
It hardly seems like it's Baker who's acting at "the last minute." The sudden crush of executions is due to the upcoming expiration of the state's supply of midazolam, compounded with fear that a new supply won't be readily available. The executions would mark the state's first in 12 years, due to a tangle of legal challenges and a shortage of the drugs used.
As the state's governor, Asa Hutchinson, said during a press conference in February: "I would love to have those extended over a period of multiple months and years, but that's not the circumstances that I find myself in."
While lethal injection has been regarded as a humane way to perform executions, midazolam has in recent years failed to keep inmates unconscious, resulting in immensely prolonged, painful deaths. As a result, several states have eliminated the drug from their procedures—but not Arkansas.
Numerous other tactics have been employed in attempt to delay the executions. Friday night's order involved not midazolam, but vecuronium bromide, another of the three drugs combined to kill prisoners. (The third is potassium chloride.) According to the pharmaceutical distributor McKesson Corporation, the state bought a supply of vecuronium bromide in July, despite the distributors' efforts to prevent it from being used to induce death.
On Friday, Circuit Court Judge Wendell Griffen issued a temporary restraining order prohibiting state officials from using the drug, writing that McKesson would suffer "loss of property and forced participation in a procedure that is likely to cause reputational injury" if he didn't, the Washington Post reports.
Barring the order getting overturned, Griffen has already successfully muddled the state's brisk execution schedule. From the Post:
In his order, Griffen prohibited Arkansas from using the paralytic drug and said he would address its future ownership at a later hearing. He also said that if state officials objected, they were welcome to appear on Tuesday morning — a day after the first scheduled execution — or could make an application for an earlier hearing.

"We are pleased that the court has ruled in our favor and we look forward to the return of our product," McKesson said in a statement.
Two of the eight executions originally scheduled have already been halted in separate proceedings. A federal judge blocked the execution of Jason McGehee on April 6, and on Friday, the Arkansas Supreme Court also blocked the execution of Bruce Ward.
A report from Harvard Law's Fair Punishment Project found that six of the eight men scheduled for execution, including Ward, are not mentally fit for the death penalty.