Tentative* good news, folks: A federal judge has knocked down Kentucky's gay marriage ban! And the cherry on top of the wedding cake? He accompanied his ruling with the most scathing and apt takedown of anti marriage equality arguments that the courts have ever witnessed.
Kentucky Governor Steve Beshear, who filed an appeal in federal court back in May, initially tried to argue that a statewide ban on gay marriage was valid and important because allowing same sex couples to wed would — and this is utter nonsense — create a decline in the state's birth rate.
Today, US district judge John Heyburn ruled that Kentucky's same sex marriage ban was unconstitutional and accompanied his ruling with a deliciously contemptuous counter argument to the Gov. Beshear's ridiculous claims (you can read the full ruling at Mother Jones):
"These arguments are not those of serious people. Though it seems almost unnecessary to explain, here are the reasons why.

Even assuming the state has a legitimate interest in promoting procreation, the Court fails to see, and Defendant never explains, how the exclusion of same-sex couples from marriage has any effect whatsoever on procreation among heterosexual spouses. Excluding same-sex couples from marriage does not change the number of heterosexual couples who choose to get married, the number who choose to have children, or the number of children they have.
The state's attempts to connect the exclusion of same-sex couples from marriage to its interest in economic stability and in 'ensuring humanity's continued existence' are at best illogical and even bewildering…The Court can think of no other conceivable legitimate reason for Kentucky's laws excluding same-sex couples from marriage."
AW, YA BURNT.
*Same sex marriage is not quite legal in Kentucky yet. The judge has stayed his ruling while Kentucky appeals.
G/O Media may get a commission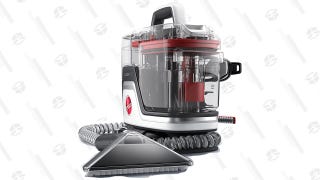 Save $10
Hoover CleanSlate Plus Carpet & Upholstery Cleaner
Image via Shutterstock.