The East Bay Times is reporting that Judge Aaron Persky, who sparked outrage when he sentenced Stanford rapist Brock Turner to just six months in jail, has opted to recuse himself from the appeal proceedings of a man convicted of possessing child pornography. In the new case, he was contemplating reducing a man's felony child pornography conviction to a misdemeanor.
The East Bay Times reports that Persky was supposed to decide this week whether he would agree to reduce plumber Robert Chain's felony conviction to a misdemeanor. Chain, the paper reports, was convicted of child pornography possession after he was found to have "188 images of child pornography on his Samsung tablet depicting girls 5 to 12 years old, and at least one image of an infant."
WSAV reports that Persky said last year he'd be receptive to reducing Chain's sentence if the man stayed sober. The court record states that Chain, who is an alcoholic, has been in counseling during which he acknowledged that he was molested as a child. He's also completed a "sex offender management" program, and can't use a computer without his probation officer's supervision.
But Persky said in a brief statement to the court Monday that while on a family vacation, he'd been exposed to "publicity surrounding this case" that could have made a reasonable observer question his impartiality. The Times points out, too, that a more lenient sentence would've been fuel for Persky's critics:
Such reductions are not unheard of, but in Chain's case, it would have come a year earlier than a probation officer recommended and has been cited by Persky's critics as an example of his unwarranted leniency toward sex offenders. Most judges impose six-month sentences on defendants in similar cases.
G/O Media may get a commission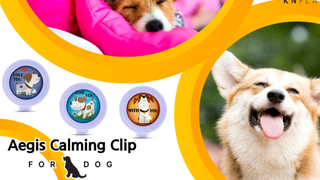 20% off
Aegis Calming Clip for Dogs
Persky is the target of several recall efforts; his critics argue that he sentences defendants in sex crime cases far too leniently, especially if the defendants are wealthy and/or white. The Associated Press found that Persky usually follows sentencing recommendations from the probation office.
The Turner case is still reverberating in other ways: Stanford has banned hard liquor at undergrad parties, in what campus officials said in a letter to students was an effort "to build a healthier campus culture around alcohol." (You can read the full letter to students here.) Turner himself blamed a culture of "drinking and partying" for his decision to rape an unconscious person behind a dumpster.
Stanford has had a section about alcohol on their student website since at least 2006, according to internet archives. Sometime in the spring 2015, a page was created about "female bodies and alcohol," warning women that they may get drunk faster than men.
But Michele Dauber, a professor at Stanford Law who's also one of the leading voices calling for Persky to be recalled, noted on Twitter that one section of the website has been quietly removed: one that states that alcohol "affects both sexual intent and aggression."
Here's the portion of the webpage that was removed. Among other things, it claims that men who have been drinking, or just think they've been drinking, "are more responsive to erotic stimuli, including rape scenarios."