Katy Perry wanted to keep the full transcript of her deposition in the Dr. Luke case sealed, arguing that its importance was tangential to the case and could be subject to intense scrutiny and gossip if released. But on Thursday The Hollywood Reporter relayed that a New York Judge presiding over the defamation lawsuit brought by Lukasz Gottwald (aka Dr. Luke) against Kesha Sebert denied Perry's motion to keep it sealed.

New York Supreme Court Justice Jennifer Schecter wrote in her order on Thursday, "Significantly, the testimony is relevant to several important factual and legal issues (such as causation of damages). Thus, there is a legitimate public interest in access."
A portion of Perry's deposition was already made public in August. Most of what she said had been redacted, although it was revealed that Perry denied having been assaulted by Dr. Luke. The deposition was reportedly necessitated by a rumor once circulating that Gottwald had raped Perry.
Perry's memorandum asking for the deposition to remain sealed argued that the risks of releasing the deposition outweighed its value to the public:
"Because of her high-profile status as an artist, advocate and role model, Ms. Hudson is vulnerable to 'gossip column' frenzy aimed at exaggerating salacious matters having little to nothing to do with the merits—whatever they may be—of the substantive, material issues in this case…. Given her tangential involvement in this lawsuit and its remoteness to the merits, her confidentiality and privacy interests should and can be respected without any prejudice to the public interest. Indeed, it is in the public interest to safeguard a non-party's confidentiality and privacy rights under these circumstances and to facilitate the cooperation of witnesses in furnishing discovery."
G/O Media may get a commission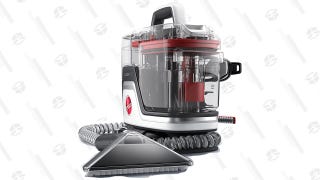 Save $10
Hoover CleanSlate Plus Carpet & Upholstery Cleaner
According to The Hollywood Reporter, most of the case's documents are currently sealed but will become public quite soon after several relevant decisions were made in court today.