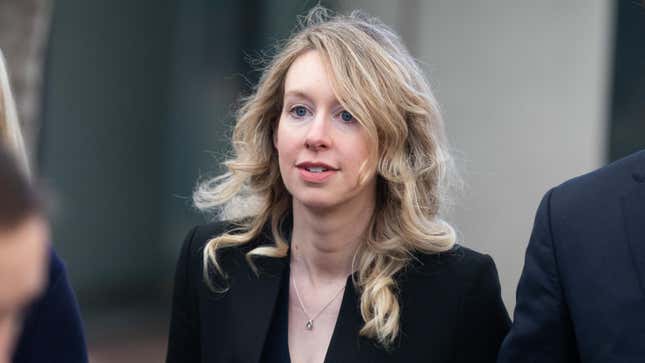 If absolutely nothing else, Elizabeth Holmes is really good at gunning for something with no merit to back it up! That sort of blinders-on can-do attitude allowed her to raise almost a billion dollars for her fraudulent blood-testing company, Theranos. It's also what probably encouraged her to appeal her conviction after being found guilty of defrauding Theranos' investors, despite not really having substantial justification for it. A California judge ruled late Monday that Holmes' appeal was not a sufficient reason to remain out of prison and that the Theranos founder is still expected to report to prison later this month to begin her 11-year sentence.

Olivia Holt Didn't Originally Get the Part of Roxie Hart in 'Chicago'
Holmes was convicted of fraud in January 2022 and sentenced in November, despite once allegedly telling a Walgreens executive that "they don't put attractive people like me in jail." I know it's not the point, but this is not true. I have two words for Ms. Holmes: Jeremy Meeks. (Wait, two more: Martha Stewart.)
In December, Holmes' team filed an appeal of the conviction, claiming mistakes were made in the original trial. They also hoped she'd be able to remain out of prison while this appeal was sought. But on Sunday, District Judge Edward Davila decided that "the Court does not find Ms. Holmes has raised a fairly debatable or substantial question" and her appearance is not "likely to result in reversal or an order for a new trial on all counts."
Even though she is not considered a flight risk, she must report to prison on April 27th. Holmes' lawyer did admit that his client's purchase of a one-way ticket to Mexico following her conviction was "ill-advised" but was for a friend's wedding.

Holmes' legal team also hoped that her two pregnancies (and subsequently, her two young children) would perhaps keep her from serving prison time. Her trial was originally pushed back so that she could give birth to her first son and in November, she was visibly pregnant with her second child, who was born this winter.
Alas, none of these attempts will keep the Theranos fraudster out of prison. Elizabeth, do not pass go, do not collect $200. It is straight to jail for you.