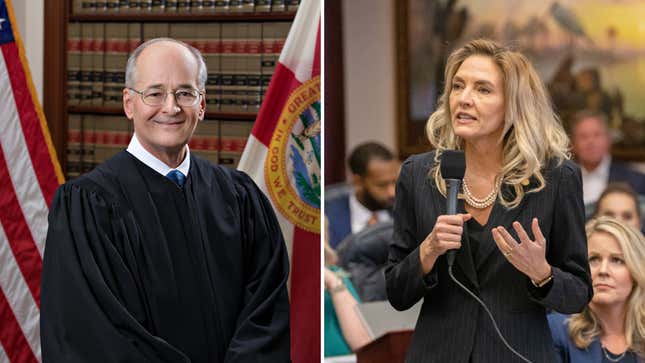 On Friday, the Florida Supreme Court heard arguments in a lawsuit that could trigger a six-week abortion ban, which would devastate access for people in the South. One Justice, Charles Canady, is intimately familiar with the ban because his wife, state Rep. Jennifer Canady (R), co-sponsored it—and he didn't recuse himself from the case.
Barbara Pariente, a former chief justice of the Florida Supreme Court, said in June that Canady should step aside. "I know Justice Canady to be of the highest ethics," Pariente said. "I cannot imagine himself not recusing himself from a bill that his wife co-sponsored." But, like the U.S. Supreme Court, no one can make a justice recuse themselves. As one law professor told the Orlando Sentinel, "There is no one that can police a Florida Supreme Court justice and tell them that they need to recuse themselves. What we need is such an entity."
Even if Canady had recused, things still wouldn't look good for abortion access: Five of the seven justices were appointed by Gov. Ron DeSantis (R) and several of them have personal ties to the anti-abortion movement. All five are members of the conservative Federalist Society, the same group that all of Donald Trump's Supreme Court appointees belong to.
When DeSantis nominated Carlos Muñiz to be Chief Justice in 2019, anti-abortion group Florida Family Action described the Muñiz family as "supporters" of a crisis pregnancy center in Tallahassee. CPCs are non-medical facilities that exist to dissuade people from having abortions and the six-week ban would also allocate $25 million in state funds annually to anti-abortion crisis pregnancy centers.
Another DeSantis nominee, Jamie Grosshans, has connections to the Christian legal organization Alliance Defending Freedom, the group suing the Food and Drug Administration to ban the abortion pill, mifepristone. (Grosshans was reportedly an ADF member, and also a Blackstone Fellow, the ADF legal training program at which Supreme Court Justice Amy Coney Barrett was a speaker.) Grosshans was accused of leaving these ties off her nomination commission application.
DeSantis did not appoint Canady, who's been on the bench since 2008, but he was the lead sponsor of federal legislation to ban abortions later in pregnancy back in 1995 when he was a member of the House of Representatives.

The case the justices are hearing is nominally about whether a 15-week abortion ban passed in 2022 violates the state constitution's right to privacy, which the state Supreme Court has said protects abortion for more than three decades. But the six-week ban has a trigger provision saying that, if the court upholds the 15-week ban, the more restrictive law would take effect in 30 days. That wording basically shows how, once the right to privacy is gone, it's game over for abortion in the state. The court could release its decision at any time.
Advocates had a shred of hope going in, given that Chief Justice Muñiz wrote in a 2004 law review article that the privacy clause does cover abortion, but his questioning on Friday seemed hostile to the idea. Muñiz asked a lawyer for Planned Parenthood why the court shouldn't simply side with the legislature, which said it has a compelling interest in life, rather than the state constitution.
No matter the outcome of the case, activists are working to get a pro-choice referendum on the statewide ballot in 2024. It's a smart thing to do, but, as always, it's still gutting to think that people could be denied abortion access before they have a real say in the matter. It's especially awful given the fact that Justices like Canady with clear bias are involved.