Kentucky Judge Amber Wolf, who recently made headlines for demanding to know why a woman in custody had been denied pants and feminine hygiene products, made another very decent thing happen in her courtroom last week. Wolf realized a defendant in a burglary case had been in custody and unable to meet his month-old son. The judge decided to arrange for him to hold the baby in court.
Ana Gasteyer Satirizes the Girl Boss in 'American Auto'
WDRB reports that James Roeder and his wife Ashley are co-defendants in the same burglary case, accused of breaking into a warehouse in February and taking flat-screen TVs. Judge Wolf issued a no-contact order forbidding them to speak to one another ahead of the trial. Ashley gave birth to the couple's son while awaiting trial. On Friday morning, both of them had court dates, and Judge Wolf noticed Ashley trying to hold up the baby where her husband could see him.

"I saw her try to hold the baby up when he came out for his case to be called with his attorney," Judge Wolf told WDRB. "And I thought that he hadn't seen that. And it occurred to me after we finished this case that he had not met his baby — who was 30 days old — and that he was not going to get an opportunity to meet his baby anytime in the near future."
Wolf made a decision to make a rare exception to the no-contact order and asked Ashley Roeder if she wanted her husband to be able to meet the child.
G/O Media may get a commission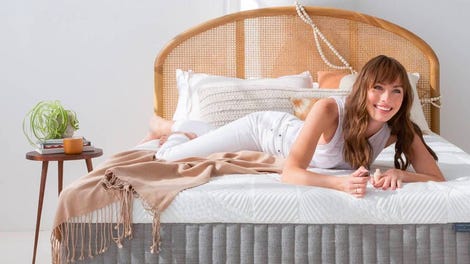 Sleep Sale
Sleep Sale - Brentwood Home
"Are you sure you're comfortable with this?" she can be heard asking Ashley in the courtroom video. When Ashley confirmed that she was, Wolf had James Roeder, wearing an orange jail jumpsuit, brought back into the courtroom.
"I don't want you to say anything to me about your case at all," she told him. "Don't say anything. Your lawyer is not present right now. But I understand that there is a chance that you're going to go back to Todd County, and that your baby is a month old, and you haven't met that baby yet. Is that right?"
"Yes ma'am," Roeder replied.
"Ms. Roeder, do you want to come up here?" Wolf asked. "I know you have a no-contact order that I issued, and I am not changing that. I'm making a temporary exception right in front of me on the record so that you can meet this baby. This is your son."
Ashley handed James the baby; he immediately kissed him and held him for a few moments. In the video, both of his parents can be seen wiping their eyes.
"See his little shirt?" Wolf said from the bench, smiling.
"Yeah," James said softly. Eventually, he handed the child back to Ashley. A bailiff grabbed a box of tissues from a desk and started handing them around.
"Give everybody some," Wolf said. And then, after both the Roeders had left the room: "If you all aren't teared up, then you're just heartless."
A prison-based justice system tears apart families: according to the Prison Fellowship, 2.7 million children have a parent behind bars. Two-thirds of those people are serving time for non-violent offenses, many of them drug-related.