Let's just start out by saying that my bathroom looks like a cosmetics counter exploded everywhere. This bathroom is inexplicable: I am usually in sweatpants and Nike slides, and I barely even wear make-up during the day, except for black liquid eyeliner which I have been wearing since before I could even drive a car. Not sure why I haven't gotten it tattooed yet. It's not like this is ever gonna stop.

When I first became interested in DJ culture as a teenager, it wasn't cool at all—and no one even knew what DJs looked like. It was the nerdiest thing ever and I got made fun of for it in school all the time. People looked at me weird until cheerleaders started taking molly and coming to me for advice, even though I didn't even do drugs. Whatever. It's Murphy's Law that by the time I became an actual full-time electronic music DJ a few years ago, I started having to worry about some party photographer in my face with a flash at 4AM after I'd been sweating all night and using my resting bitch face while trying to mix songs together.

The only products I used when I was young and going to raves were roll-on body glitter and and sparkly eyeshadow. I often think about just bringing this look back to make my life easier. Maybe the photographers won't go near me if I do that. But eventually I parlayed my love for sparkly things into a job at Sephora while attending Florida Atlantic University, which began my love of products, or problem with them, whether I use them or not.
On Saturday, April 18, I had a full day: some studio time, the last Trouble and Bass party ever at Verboten which I was lucky enough to play, and then an afterhours at 7:30 AM somewhere in Bushwick and I still don't even know the location. A LITERAL 24-hour product diary, right?

G/O Media may get a commission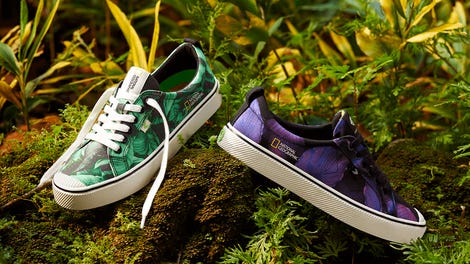 New New New
Cariuma + National Geographic
---
Morning (Late)
I let myself sleep in because I know it's gonna be a long one. I usually wake up around 9 or 10 but if I let myself I can sleep forever. Today I got up around 11:30. My shower schedule depends on my gym schedule. Sometimes I go at night and other times I go in the morning, it really depends on what I have to do that day. I went to Brooklyn Body Burn yesterday and now I feel like dying, so today I'll shower in the morning.
I switch shampoos a lot. I have never found the right one for my oily Italian Jewish hair. Lately I have been using this weird CVS Coconut Water Philosophy rip-off that I am actually really starting to like, but who knows if I will buy it again when I run out. I also have dyed black hair at the moment because I decided to go blonde for some dumb reason last year so I use this Aveda Black Malva conditioner here and there. My mom used this when I was little and it smells like mint. I haven't used it in like 15 years but my aunt bought it accidentally and gave it to me last time I was in Florida. So why not? Thanks Aunt Lydia.
I always wear the same nail polish when I don't have time to go to Naomi. I picked the color (chartreuse) out at random at a salon once and it happens to be called "Did It On Em" from OPI's Nicki Minaj Collection. Makes sense to me. I think it's been on my toes since the collection came out tbh.
I have been trying to use a dry brush before showering because I live in NYC and it makes everything about you gross. So sometimes I do that; today I did because I am writing about it. And because I lived in Williamsburg for eight years I use Dr. Bronners lavender body wash, surprise! Philosophy also made their Microdelivery Exfolient IN A BODY SCRUB, I have been waiting for this for years and years and years so I have been using that a few times a week and it's magical.
In the summertime when I get out of the shower I use coconut oil as body lotion because it's the answer to everything. When it gets a little colder I use Vaseline cocoa butter lotion. I use whatever deoderant I buy after I lose my current one somewhere while traveling. Right now it's Mitchum roll-on. I think I hate it though.
I love Mario Badesceu because when I first moved to NYC I worked at Henri Bendel at the Benefit counter, right next to Badesceu, so when it was slow I would ask a million questions. I find it to be the best on my combination skin and so reasonably priced that it's hard to believe. I use their G lycolic Foaming Facewash before the previously mentioned Microdelivery Exfoliant from Philosophy. I also use their Glycolic Toner, and then switch around with moisturizers. Right now I'm wearing Philosophy's Hope In A Jar which I have used on and off for years. I just started using Mario's Gel Eye Cream and I am into it.
During the day I usually just slap on some NARS tinted moisturizer and MAC's Prolong Concealer, which is in a glass tube for some stupid reason—I have dropped and shattered a million of them on hotel floors—but it's the only thing that actually works. PLEASE change that, MAC. The struggle is real.
Quick eyeliner, mascara and some Benetint if I am feeling blushy. If I had a rough night before and I have something important to do I follow this Cat Marnell post on "How to Look Hot and Feel Hot on No Sleep." It's my bible. But I am really having less and less of those these days.

Evening
I go through my day in the studio like that, then it becomes time to get ready for night.
Okay, here we go. First off, I use this MAC liquid liner that wouldn't even come off if it was being paid to. Which is good for me because I often have marathon nights like tonight. MAC's (awesome) make-up remover barely even gets it off. (Mario's eye make-up remover does though. SO there's that.)
To get ready for a marathon night, first I take off everything using a travel-sized Philosophy Purity Cleanser that I bought while waiting in line at Sephora (they always get you there) and then put my NARS tinted moisturizer back on. Then the concealer again. Then I whip out this awesome Marc Jacobs Palette that my friend Scott gave me . I have a million single eyeshadows from all brands but I have stuck to this one. I also have another cool Make Up Forever one that Dana Delaney gave me when she did my make up for a shoot once in LA. Love that one too.

SO I choose my almost-always neutral shadow with some darker crease from either palette, brown or black, and then put the liquid liner back on. I wing it a bit because, like I said, I am still in high school. Then I line the inside of my eyes with a Make Up Forever Aqua Eyes pencil in black and I am good. All that shit will stay on for days.
I love NARS Exhibit A as a blush—the shade looks so intimidating in its package, but it really does the trick and anyone can use it. So I put that on as well, then I bronze with Benefit Sun Beam on my cheekbokes and brow bones and sometimes my eyelids if I am too lazy or don't have time to put shadow on. I use Brow Zing from Benefit on my brows—now that I am finally getting into my brows, I've been going to their Brow Bar on the Upper East Side—and then I choose a lipstick or use this Nivea stuff.
The ONLY lipsticks I can use on a night like this are MAC's Retro Matte because, like the eyeliner they don't go ANYWHERE. Ruby Woo and Russian Red are a way of life and many girls on Instagram agree with me on this. RIP MOXIE. You can eat an entire dinner, have drinks, smoke joints, whatever and that shit will look brand new. MAC made these cylinder-shaped, pro, long lipwear things for a while that were very similar and I have almost all of them. Those are also AMAZING, but I think they stopped selling them WHY!?!?!??!?!
For my hair I iron with the trusty CHI. Before I do that, though, I use this Shu Uemora iron spray to protect it. Josh from Graceland suggested I use it and now I swear by it, cause it just protects my already-damaged hair while I burn it to a crisp. Then, because my hair gets oily within HOURS, I use this new Bumble hair powder, which, finally FINALLY I found something for me. I had been ordering Stila's for years and years even though it's been discontinued, and I would always have to find it on Amazon—it's the ONLY thing that worked on me. NONE of the other hair powders could match my hair texture. Please do not suggest anything else. I have tried it all. TRUST ME. It's not happening. But this Bumble one finally finally works and I don't have to search for it desperately on the internet, yay.
When I am done with all of this I just finish my face off with some MAC Studio Careblend Pressed powder that I impulse bought in the Sydney airport and spray my face with Aqua Net hairspray. Fuck a setting spray. For scent, I spray myself with yet another discontinued product that I have to find on the internet constantly and I am out the door.
So, I am out all night DJing. Every product lasts. It's the night for Trouble & Bass, hopefully I am not making some Beyonce-Superbowl face in all the photographer's photos. I spill like 10 drinks on me, then off to the afterhours, during which we ALL know it's gonna get light out. To cope, I fix the pencil part of my liner which has probably worn off a bit, reapply lipstick to make it look fresh while considering taking it off and replacing with the Nivea, re-powder my face and hair and yep, good! My judgment is probably a bit impaired at this hour, but I know for a fact that everyone around me and their judgement is 10x more impaired than mine. So we are good.
Morning (Early)

I finish my set. It's 9:30 in the morning. I go home all the way to Hell's Kitchen from Bushwick while trying to stay awake, and when I get home am sooooooo tired I just use whatever make up wipe I can find. Sometimes it's MAC, other times it's just these Neutrogena guys. I use two of them to take everything off and just pass out. On a normal, not-marathon night, yes, I wash my face and do my whole skin care regimen before going to bed. But I am only human, and at 10AM my skin is lucky I am even attempting to take something off. In the morning I am gonna have to go read my Cat Marnell bible. Eat Sleep Rave Repeat.

Jubilee is a DJ and radio host in New York City. Her new EP, Jealous, is out now on Mixpak Records. Follow her on Twitter.