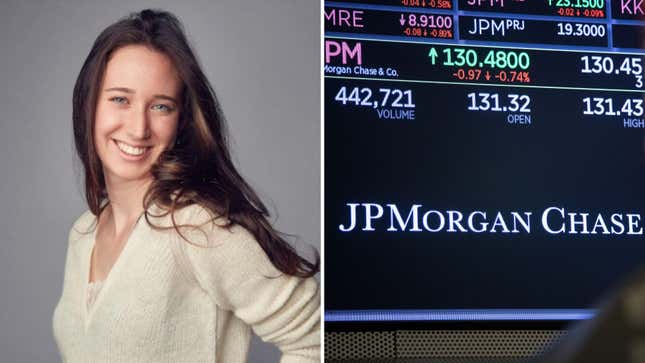 Most people, when hearing someone was someone was pitching "Amazon for higher education," would stare blankly in response, and perhaps mutter "wut." But not mega-bank JP Morgan! When its execs learned that Charlie Javice, founder of the financial aid startup Frank, planned to create an "Amazon for higher education," they eagerly handed over $175 million dollars. But it turns out they should've gone the "wut" route...because they're now suing Javice for fraud.

Javice, a 2019 recipient of the highest honor a twenty-something can hope for (a spot on the Forbes "30 Under 30" list), appears set to join the illustrious ranks of young founders who got in a bit over their heads and woke up one day a scammer (your Elizabeth Holmeses, your Sam Bankman-Frieds).
JP Morgan claims that her company, Frank, which supposedly guided college applicants through the FAFSA application process, "invented several million Frank customer accounts out of whole cloth," Forbes reported late Wednesday. "In every aspect of her interactions with JPMC, Javice had a choice between revealing the truth about her startup and accepting Frank's actual value and lying to inflate Frank's value," the lawsuit says. "Javice chose each time to lie, and the evidence shows that time and again she layered fraud upon fraud to deceive JPMC." Damn.
In July 2021, as part of its due diligence process before purchasing the company, JP Morgan asked for Frank's user roster. Javice pushed back, saying that sharing it would be an invasion of privacy. Behind the scenes, she and Frank's chief growth officer, Olivier Amar, asked the company's director of engineering to create fake accounts to bolster their numbers. That guy, smartly, asked if that was even legal. 
So Javice and Amar turned to a random New York City based data science professor and paid him $18,000 to help create the fake accounts. In their correspondence, Javice asked if "the fake emails [will] look real with an eye check," to which the data professor responded that indeed, "they will look fake." Hm. He followed up saying that if he were to audit the fabricated list he created, it would "look fishy" to him. According to the lawsuit, the entries had users living, going to high school, and attending college all in the same state. Javice's quick fix to get rid of that "fishy" smell was to just have the professor delete all evidence of his work after he was done with it.
But the professor took his own sweet time creating 4.265 million fake users, and in the meantime, Amar got antsy and decided to splurge on 4.5 million random (real) students' data from the firm ASL Marketing. Ultimately, JP Morgan, high on the promise of "Amazon for higher education," readily accepted the names Javice and Omar eventually turned over.
Here is where I would have paused for a moment to ask if I really thought that millions of teenagers were responsible enough to download and use a FAFSA app. (Roughly 20 million students fill out the FAFSA every year; it would be bananas if 20 percent of them were using a startup app with no major backing!) But the world of finance is filled with a bunch of weird nerds, and perhaps they just assumed that the TikTok generation would be obsessed with a FAFSA app, and the deal progressed.
A few months later, the bank approached Javice asking for user data so it could start marketing to them. (That's what this is all about, baby! Growing that sweet sweet customer base.) When the bank sent out a test email to 400,000 students, the results were "disastrous." More than 70% of the emails were undelivered, and only 1.1 perfect were actually opened—alarmingly low numbers compared to the bank's other marketing campaigns. It was only then that the bank discovered that the user lists Javice provided them were fake.
This wasn't the first time suspicions were raised against Frank. In 2020, members of Congress requested that the Federal Trade Commission investigate the company's practices. "We are concerned that Frank is creating false hope and confusion for students while contributing to unnecessary extra work for financial aid administrators," they said in a letter. "We further suspect that the company may be using the data collected from misled students to make a profit by selling data to third party advertisers," the letter read. Receiving bipartisan shade under 30 is an accomplishment in and of itself! But Frank got off with a warning only from the FTC.
Days before JP Morgan filed its lawsuit, Javice sued the bank, claiming that, in fact, she was the whistleblower on this whole ordeal and that she was "owed millions of dollars for expenses incurred while defending herself against internal investigations that began last spring." Preemptively anticipating a fraud lawsuit from your employer? #Girlboss moves only!
Today, Frank's homepage simply reads that it "is no longer available" and that to file your FAFSA you should "visit StudentAid.gov." What a brilliantly simple suggestion.
While this scam is not quite as delectable as Elizabeth Holmes and Theranos, it's comforting to see that the tradition of startup scammers extend into the new year. And now Javice is on another, more exclusive list: Forbes Prodigies Who've (Allegedly) Committed Fraud Before 35.