Egyptian-American journalist Mona Eltahawy was arrested last night for spray painting over one of the American Freedom Defense Initiative's new cringe-inducingly offensive posters, which read: "In any war between the civilized man and the savage, support the civilized man. Support Israel. Defeat Jihad."
The MTA was court-ordered to install the ads on the basis of the First Amendment on Monday, but, according to the Huffington Post, at least seven of the ten ads were, shall we say, improved upon by anonymous street artists within 24 hours.
Well, not all of them were anonymous. The New York Post filmed Eltahawy arguing with a supporter of the ads who identified herself as Pamela Hall, and the tension-filled footage is so dramatic it's reminiscent of a Mamet play; in it, Eltahawy dances around Hall, spraying the sign (and maybe Hall) whenever possible and calmly spewing barbs like, "That's right, defend racism."
"Mona, do you think you have the right to do this?" Hall asks at one point.
I do actually," Eltahawy says. "I think this is freedom of expression, just as this is freedom of expression."
G/O Media may get a commission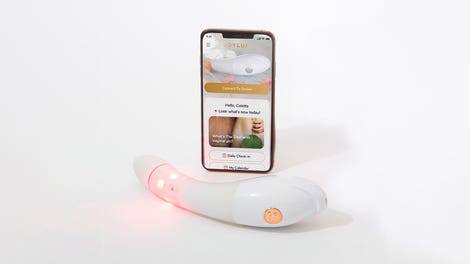 $50 Off
Joylux vFit Gold Device
Hall continues to yell "Stop it Mona!" and "You've got a lot of nerve!" as she tries to protect the sign, asking "What right do you have to violate free speech?"
"I'm not violating it. I'm making an expression on free speech," Eltahawy responds.
"You do not have the right!" Hall says.
"I do actually and I'm doing it right now and you should get out of the way! Do you want paint on yourself?"
Eventually, an MTA police officer and an NYPD cop arrive and arrest Eltahawy, upon which she repeatedly asks what she's being arrested for. "This is non-violent protest, see this America!" she says. "I'm an Egyptian-American and I refuse hate."
Eltahawy's actions were unsurprising to anyone who follows her on Twitter; yesterday, she tweeted repeatedly about her plans. "My pink spray paint will match my pink raincoat but my Gaddafi-green fascist dress reveals my true intentions," she wrote, adding the hashtags ‪#FuckHate‬ and #ProudSavageTuesday. According to her Twitter, she is currently waiting to go to court for a misdeaeanor and expects to be let out of jail with no bail.