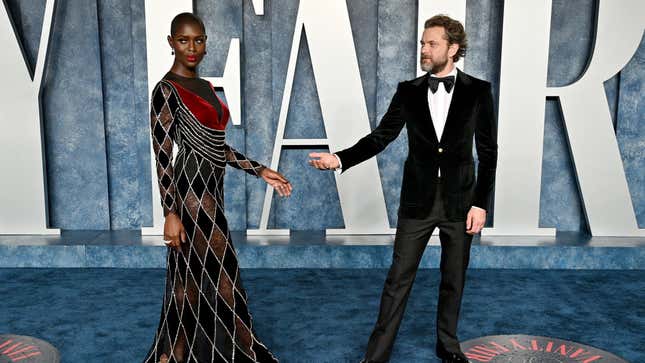 At the risk of aging myself, I'll admit that I had a poster of Joshua Jackson on the wall of my teenage bedroom when he was playing Pacey in Dawson's Creek (Pacey was cool, Dawson was a dork). I also devoured every season of The Affair, felt equally thirsty for Jackson in that show, and pretty much wanted to gouge Diane Kruger's eyes out for the whole decade they dated (2006-2016).

Olivia Holt Didn't Originally Get the Part of Roxie Hart in 'Chicago'
Now that he's married to Jodie Turner-Smith (my personal fashion icon), with whom he has a 3-year-old daughter named Janie, my lust has settled into a quiet admiration. But I still read his latest interview in the Sunday Times with great interest, as he opened up about his romance with his wife, settling down after never having wanted to before, and his feelings on infidelity in general.
"If we had met five years earlier we probably would have had a torrid affair, but all the rest of this stuff, I was just not ready," Jackson said. "I didn't think I ever wanted to get married."
Jackson, who is 44, said he met Turner-Smith "at the right moment in life" and was "old enough" to consider marriage and children by that point. "In the beginning we did this dance with each other like, 'Oh, this is casual.' Except that we'd spend every moment together and find reasons to be in other cities together at the same time."
Turner-Smith eventually proposed to Jackson during a New Year's Eve trip to Nicaragua, of which he has delightfully said, "For anybody who is freaked out by a woman claiming her own space, shut the fuck up. Good God, you cannot believe the things people were leaving my wife on Instagram. She did it. I said 'yes.' We're happy. That's it.'"
Now, Jackson is starring in the upcoming TV remake of Fatal Attraction alongside Lizzy Caplan. In the classic 1987 film, which starred Glenn Close and Michael Douglas, a married man's one-night stand goes nuts and terrorizes him and his family when he doesn't want to have a relationship. Jackson obviously doesn't endorse that behavior—and in fact sounds pretty level-headed about affairs in general.
"I think an affair can be forgiven," he told the Sunday Times. "We're all grown-ups. No one wants to be cheated on and there is massive repair to be done."
"Affairs aren't about the partner, they're about the person who has transgressed," he added. "It's not purely about the sex. There's a deeper violation."
Thank you, Joshua Jackson, for talking about sex this much. In other news, I am off to take a cold shower and wait patiently for April 30, when the new Fatal Attraction premieres.