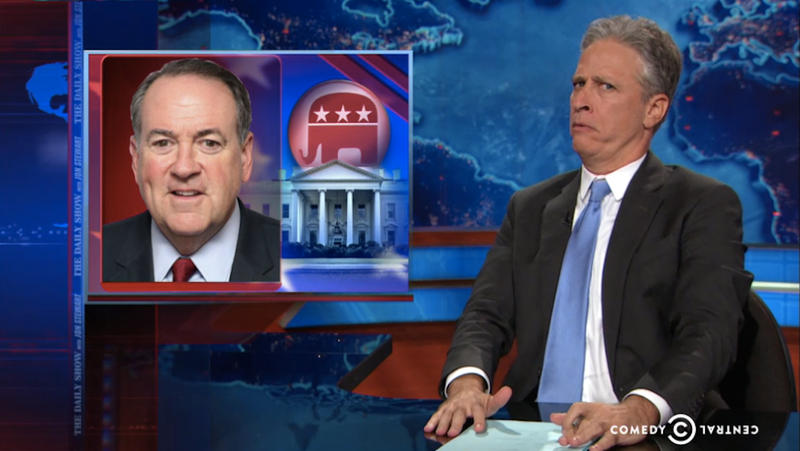 Last night on The Daily Show, Jon Stewart managed to effectively smack down Mike Huckabee's "oven door" comment with a few video clips and some theatrical grunts. It's truly unnecessary to put in any rhetorical effort—Huckabee is just that much of an idiot.
Recently, the highly embarrassing Republican presidential candidate made the following comment on a Breitbart radio interview about the Iran nuclear deal, prompting backlash from both parties: "This president's foreign policy is the most feckless in American history. It is so naive that he would trust the Iranians. By doing so, he will take the Israelis and march them to the door of the oven."
Stewart responded with chest-thumping, caveman noises, and a handful of clips: one of Huckabee doubling down on the comment ("I've been to Auschwitz three times...I have stood at that oven door"), one of Huckabee doing a weird good ole' days spot for Popeye's Chicken, and one of a CNN reporter discussing the "troll effect" of these and similar comments seemingly manufactured for attention-getting purposes.
Get out of here, Huckabee. You don't deserve our attention.
---
Contact the author at ellie@jezebel.com.
Image via screenshot.