We do a lot of raving about Jon Stewart and The Daily Show around these parts and for the most part the praise is well deserved. Stewart is one of the great wits of our time and his show has provided catharsis and laughter through many challenging times. Still — and I think he'd agree with me here — his greatness is completely and absolutely dwarfed by that of Malala Yousafzai.
The young, heroic, education advocate appeared on The Daily Show last night to promote her new book I Am Malala. Her composure and bravery — both in the Daily Show guest seat and beyond (obviously) — had everyone blown away.
"We are human beings," the 16-year-old told the audience. "And this is the part of our human nature — that we don't learn the importance of anything until it's snatched from our hands. In Pakistan, when we were stopped from going to school, for the first time I realized that education is very important and education is a power for women. That's why the terrorists are afraid of education. They do not want women to get an education because then women would become more powerful."
Later she shared her thoughts on diplomacy:
"I used to think about [what would happen if I were attacked] and I used to think that a Talib would come and just kill me, but then I said, 'If he comes, what would you do Malala?' then I would reply to myself, 'Malala, just take a shoe and hit him," but then I said 'If you hit a Talib with your shoe, there would be no difference between you and the Talib. You must not treat others cruelly and harshly. You must fight others, but through peace and through dialogue and through education.'"
G/O Media may get a commission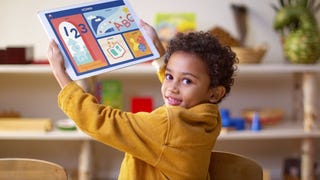 30-Day Free Trial
Homer Learn & Grow Program
"I know your father is backstage and he's very proud of you," remarked an awed Stewart at the end of the interview. "But would he be mad if I adopted you? Because you sure are swell."
You can watch the extended interview at The Daily Show website.
The Daily Show
Get More: Daily Show Full Episodes,The Daily Show on Facebook