Jon Gosselin is living in his own alternate timeline and working three days a week for a family-friendly chain restaurant in Lancaster, Pennsylvania.
According to Page Six, Gosselin makes food and occasionally pursues his DJ career by doing a set at a local T.G.I. Friday's. The general manager, Scott Trompeter, says Gosselin is basically Ratatouille:
"He works here because he likes to cook... He cooks during the day for me and sometimes here and there. He's done a great job the last couple of months. He's part of my Friday's family."
Gosselin has been plagued by money troubles ever since the dissolution of his relationship with both his ex-wife Kate and the TLC Network, who he alleges picked Kate's side in the divorce and more or less ruined his life. Or, at the very least, set him up for some money troubles.
G/O Media may get a commission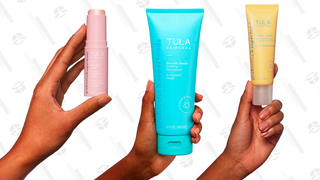 Trompeter insists that Gosselin donates all of his checks to charities, though he was unable to name any. It's not the first time Jon Gosselin has gone somewhere to work randomly in a restaurant, so maybe it's really just his zen place. May he and Kate plus their little eights find peace.