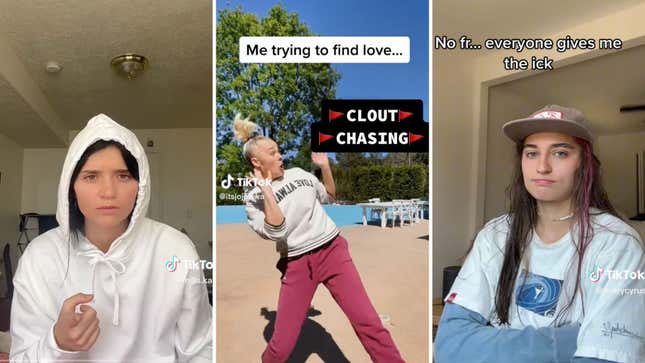 Former bow-wearing Nickelodeon star Jojo Siwa, who is now 19 years old and queer, has been exceedingly public about her partners since coming out in January 2021 (she technically identifies as pansexual). But, to her exes' dismay, she's also been exceedingly public in trashing them on TikTok for all of her 45.9M followers to see.

JoJo Says 'There's Definitely Parallels' Between Her and Moulin Rouge's Satine
On Tuesday, Siwa posted a TikTok in her signature Energizer Bunny aesthetic—seriously, someone needs to confiscate the teeny bopper's on-demand espresso shots—as she dodged a series of red flags, which included "ex's," "clout chasing," and "love bombing." The video has 2.4M views to date.

Several hours later, Siwa's ex Katie Mills, also an influencer, stitched the singer's (dancer's? hyper person's?) TikTok and called her out for being a shit-stirrer.
"I'm done being quiet," Mills said. "You hold a lot of power, you and your platform. How can you tell someone that you love them and then ghost them the next day and then post all over the internet that we're clout chasers and love bombers? I don't get it."

Mills and Siwa made their public debut as a couple in December of 2021 but broke up about a month later. Siwa went on to date another influencer and TikToker Avery Cyrus, whom Mills mentions in her video, for roughly three months and then apparently dumped her on the high seas.

"You sent me and Avery through hell for months and gave us no explanation why. You know we weren't love bombers or clout chasers. Weren't you the one that decided that we needed to go to the Hollywood Blvd., Disney, and the Lakers game? That wasn't my idea. And anytime I posted something, I asked for your permission first, and I have the text receipts to prove it, so don't come at me saying that we were clout chasers. Everything was starting to die, everything was starting to be quiet. But now that you posted a video like this coming at us, we're getting the DMs back, the comments back. Knock it off. You know me and Avery can't defend ourselves so stop attacking us. Leave us alone. Holy."
Directed from Mills' TikTok, commenters are now flooding Siwa's original post with anti-Siwa comments like "POV: It's JoJo running from her own red flags," and, "Nobody: JoJo: MY EXES ARE THE WORST RIGHT GUYS???"
But the plot thickens. While JoJo may be an arbiter of mess, let's not forget that she dumped Mills after fans resurfaced some of Mills' transphobic, racist, and pro-Trump Twitter likes from 2018. She reportedly liked a tweet questioning whether trans women are "actually women" and, after getting mini-cancelled for dressing up as Kendrick Lamar, called cornrows a "costume." And in Satan's year of 2020, Mills also liked tweets that mentioned Trump, one of which read: "I'm sorry @realDonaldTrump we let you down."
In December of 2021, Mills tweeted some classic non-apologies like, "There is stuff that Trump did that I DO support, and there is stuff that I DID NOT support. It's the same way for Biden. There's stuff that he does that I DO support and there's stuff that I DON'T support," and, "Some of my bestest and most dearest friends are of different races and color." Yikes, babygirl!

As for JoJo, given the more extreme chaos of some of her teen celeb forebears (can you imagine if Paris Hilton, Lindsay Lohan, or Amanda Bynes had TikToks during their peak tabloid-cringe era?), I'm going to give her a pass and hope she learns how to clean up her messes next time.
---