Johnny Depp, whose descent from generally beloved superstar to accused domestic abuser and disheveled, potentially penniless wino happened seemingly almost overnight, is reportedly adding a new character trait to his increasingly bizarre repertoire: eccentric recluse!
Us Weekly reports the Pirates of the Caribbean: Can't Stop the Pirating star wants to connect "his five neighboring cul-de-sac homes in the Hollywood Hills" with a series of underground tunnels because, well, why not? There doesn't appear to be a good reason for this beyond, "I'm Johnny Depp and it's 2017, what'd you fools expect?!"
The one problem he's having (apart from the rumor that he's flat broke, which could prevent this whole wacky thing from happening altogether) is that the owner of a sixth house on the cul-de-sac is refusing to sell, and Depp can't construct his weirdo labyrinth without it.
My question is, who in their right mind would feel comfortable living between five homes owned by Johnny Depp? Sell! Sell now! Sell yesterday!
---
Blac Chyna's "alleged managers" (an A+ description) may sue the reality star/Instagram con artist for "at least $3 million in unpaid fees" stemming from a 10-year contract she signed with them in 2007. They claim to have made Chyna "a thing" and will go after "producers of her reality show" if she doesn't pay up.
G/O Media may get a commission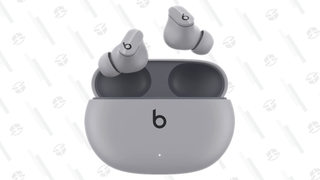 TMZ writes Jason Alston and Lincoln Hayes have "sent letters to NBCUniversal, Ryan Seacrest Productions and Bunim/Murray Productions" letting them know a lawsuit is imminent.
Oh how the never-quite-as-mighty-as-they-thought have fallen.
[TMZ]
---
George Clooney told Matt Damon about Amal's pregnancy when she was just eight weeks along, and I sort of suspect (based on nothing but a hunch) that he was the first person George told. In an interview with People, Damon said:

"I was working with him last fall and he pulled me aside on set and I mean, I almost started crying. I was so happy for him," The Great Wall star told Entertainment Tonight Canada. "And I was like, 'How far along is she?' And he goes, 'Eight weeks.'"
He then added:
"'Are you out of your mind?! Don't tell anybody else! Don't tell anybody else! Don't you know the 12-week rule?' Like of course he doesn't."
Hahaha, of course he doesn't! What a dummy. Hahaha, my idiot friend George.
[People]
---