Last October, Johnny Depp made plenty of industry headlines when news broke that he was leaving UTA, his agency of nearly 30 years, for CAA. Then story sort of came and went, as people cared more about his relationship with the woman who accused him of domestic violence than they did about who his agent was. Understandable!

But Page Six reports this week that the move may have had larger implications than originally thought. Depp may have left CAA because "he couldn't pay [longtime Agent Tracey Jacobs] any more commissions on his movie deals." In other words, dude's broke.
They continue:

A Hollywood source said, "Depp told Jacobs and UTA he no longer wanted to pay their commissions. But they pushed back." So the "Pirates of the Caribbean" star jumped ship to CAA, which gave him a sweeter deal.
CAA apparently has lower commission rates, which means more of the money he'll be making for Pirates of the Caribbean: When Everyone's Undead, We Can Do This Forever can go to his wine budget.
[Page Six]
---
Speaking of things that have apparently been happening for a while now but are just now being brought to light: Pamela Anderson is dating Julian Assange?
G/O Media may get a commission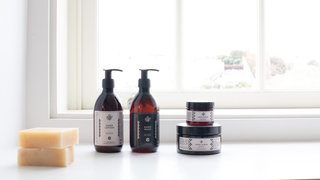 Exfoliate and Hydrate
The Handmade Soap Company
You've probably seen the photos of the former Tool Time star walking into the London embassy where he lives with treats, but sources are now telling Page Six that it's not just friendship, a shared love of snacks, or respect for his work. It's because they Wikilike each other.
The reason people are beginning to suspect love might be in the air is a tale as old as time:
"She seems to be wearing sexier outfits every time she visits," one political activist observed.
[Page Six]
---
Chrissy didn't care about her nip slip.

---
Malia Obama is enjoying her time outside the White House. [Page Six]

Amanda Knox will ALWAYS be Amanda Knox. [Daily Mail]
Gaga went from the top of the football stadium to the top of the charts. [ONTD]
Russell Simmons still loves Kimora Simmons, he just think she's a pain in the ass. [Page Six]
Were you familiar with "Beckileaks"? No? Well get ready. [The Sun]
This is awful. [Us Weekly]