Johnny Depp has several problems of many varieties, but he celebrated a victory in court today, where he continued to duke it out with his former entertainment lawyer, Jacob Bloom, in a $30 million lawsuit.

On Tuesday, a Los Angeles Superior Court judge ruled that Depp's supposed oral contract with Bloom was illegitimate, due to state law that requires contingency fee agreements to be set down in writing.
Depp sued Bloom for malpractice last October, claiming the attorney was trying to collect more than $30 million in contingency fees from him without a viable contract. In December, Bloom countersued Depp, arguing the actor violated their agreement by failing to pay his legal fees.
Depp's lawyer, Adam Waldman, sent The Hollywood Reporter a statement in response to the hearing:
"Johnny Depp is gratified by today's ruling in his favor against one of the most powerful law firms in Hollywood. This ruling is a victory for Mr. Depp, but importantly it sends a clear message to the legal industry that the laws apply to them too. Industry 'customs' that have been used in Hollywood for decades to take advantage of artists are not legally binding. Johnny Depp stood up for all artists in Hollywood and won; this ruling should cause a change for the better."
G/O Media may get a commission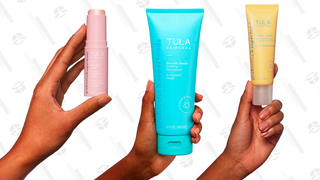 I do hope Mr. Waldman has a written contract.
[Deadline]
---
Stars, they're just like us! In that they publish underwhelming Instagram captions and continue to date one another.

[Elle]
---
HAHAHAHA *falls asleep* *gets back up, tries again*

That's a fake Warren Buffett account, by the way.
[BI]
---