John Kasich appeared Thursday on Late Night with Seth Meyers, where he defended his continued insistence on running for president. Let's hear it, John.
"There's Coke, there's Pepsi and there's Kasich," he told Meyers. "Because nobody'd heard of me, right? People just have to make up their mind that they wanna put me in their cart."
Yeah, but... they aren't? And likely won't? Kasich correctly cited a few polls that show he probably has the best shot at beating Clinton in a general election. But Republican primary voters just don't seem to like him much—awarding him just 143 delegates so far—the math of which he pluckily refused to acknowledge.
"You currently have fewer delegates than Rubio," Meyers pointed out.
"But we have a ways to go," Kasich responded, not entirely correctly. "So we'll see where we go, into the convention. We'll have momentum."

G/O Media may get a commission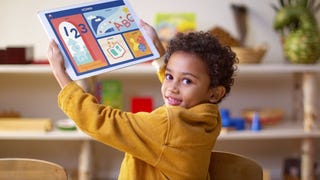 30-Day Free Trial
Homer Learn & Grow Program
All the same, Meyers pressed, "You're going to show up there probably with the third most deleagates," a.ka. last.
"Maybe not," Kasich said. "Maybe not."
You have to admire a man who staunchly refuses to bend in the face of reality, but the governor was eventually persuaded to acknowledge that he would not have "the most" delegates. He also defended the idea of a brokered convention, wherein delegates just kinda pick whoever.
"To some degree, isn't that invalidating the votes of the people who've shown up at all these primaries beforehand?" Meyers asked.
No, Kasich responded. "It's just an extension of the political process."
Well all right! Kasich also told Meyers that he's getting renewed attention (not really) "because I wouldn't take the low road to the highest office in the land. I wouldn't call names."
Kasich also tried to defend the indefensible: eating his pizza with a knife and fork. As ever: we do not care and we do not forgive.