As Donald Trump actively threatens to undermine our democracy, Joe Biden is encouraging us to take a step back and soberly consider the very real possibility that Donald Trump is just a fucking moron.

During a stump speech for Hillary Clinton in New Hampshire, Uncle Joe did what Uncle Joe does so well and told it like it goddamn is. Earlier today, when asked how he would respond if he loses the election, the rape-y Cheeto said: "I will totally accept the results of this great and historic presidential election—if I win."
Those of us who, you know, follow the laws of this nation found his statements rather frightening because that's not how this shit works! Vice President Biden took it a step further, recalling Trump's alphabet soup nonsense about very serious topics like Putin and Mosul and considering what might happen if his late son Beau—who served in the army—were put in harm's way by Donald Trump.
"Thank god I don't have to worry about whether my son is still there because he plays into the hands of our enemy so uniquely," he said before suggesting that the real danger of Trump is that he actually has no clue about the damage he might cause.
G/O Media may get a commission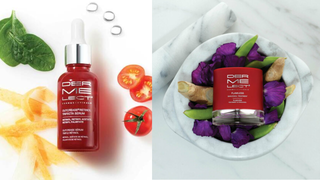 Save $19
Retinol Renewal Kit
Donald Trump has been compared to Hitler more than a few times over the course of this election—a comparison that is highly arguable for a number of reasons. Still, I'll say this: At least Hitler had a plan. Hitler knew what he was doing. Hitler's goal was destruction and domination. Does this idiot Trump really have it in him?
I'm with Joe.