Real Housewives of Miami cast member Joanna Krupa is suing Brandi Glanville of the Real Housewives of Beverly Hills for claiming on live television that Joanna broke up a marriage and has a smelly pussy. Yep.
In November 2013, Brandi appeared on an episode of Watch What Happens Live!—a show that is apparently this woman's kryptonite—and made disparaging remarks about Joanna. Brandi accused her of breaking up the marriage of Beverly Hills cast member Yolanda Foster and her ex-husband Mohamed Hadid. She said that Mohamed was the one who told her about the affair and about the smell of Joanna's pussy.
At the time, Joanna responded by tweeting: "No wonder her husband left her," referring to Brandi's ex-husband Eddie Cibrian having multiple affairs and eventually leaving her for LeAnn Rimes. Brandi also said that fellow Real Housewives of Beverly Hills star Lisa Vanderpump had heard Mohamed make these claims. Lisa Vanderpump, being the actual sane woman that she is, washed her hands of the whole mess because ahem, she is a classy lady who wears a lot of pink and has a live-in maid.
Following this kerfuffle, Brandi and Joanna have, naturally, both continued to act like mature, sensible, adult women in public. The drama appeared to have died down a bit, until December, when Brandi asked Andy Cohen (again on WWHL) about the the last time he'd seen Krupa, remarking "Did you get food poisoning? From bad sushi that night?"
She went on to say, "She's stunning. You can't help the odor situation."
These latest remarks seem to have spurred this suit from Krupa; Life & Style obtained (AKA Joanna gave it to them) a copy of the letter sent to Brandi informing her of Joanna's lawsuit. It reads, in part:
Dear Ms. Glanville,

Please be advised that I represent Joanna Krupa and her husband Romain Zago in her/his/their actions against you for slander, libel, defamation and/or intentional infliction of emotional distress. As you are aware, on November 11, 2013, on Bravo's, Watch What Happens Live, you falsely accused Mrs. Krupa of having sex with Mohamed Hadid while he was in an intact marriage to Yolanda Foster (i.e. adultery) and that Mohamed Hadid told you that Mrs. Krupa's "p—sy smelled," claiming that such was the truth and that Lisa Vanderpump was there when Mr. Hadid said such to you. At the time you made the false and malicious statements on national and international television, including such being published and broadcast in Florida, you knew your statements were false and that such were damaging and humiliating to Mrs. Krupa and/or her husband and subjected Mrs. Krupa and/or her husband to hatred, ridicule, contempt and/or injury to his/her/their reputation.
G/O Media may get a commission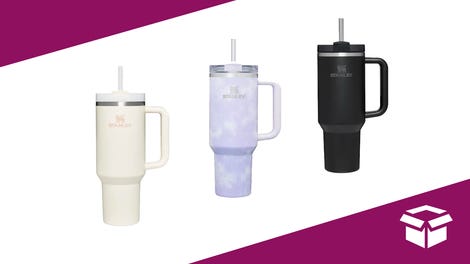 Up to 45% off
Stanley Cup Sale
The letter goes on to claim that Brandi made the statements for publicity and to further her own brand.
I was always under the impression that the women of the Real Housewives weren't allowed to sue fellow cast members, but apparently that rule doesn't apply in inter-franchise matters. Alternatively, with the status of the Miami franchise being murky at best, Joanna may no longer be under contract and therefore, able to move forward with the suit. That might also be why she waited over a year to file.
There are absolutely no winners here other than Andy Cohen, who will likely find a way to spin this off into a brand new series. And you know what would be absolutely incredible? If this shit actually went to trial and both Mohamed and Lisa were forced to testify about the activities and odor of Joanna's vagina. Would watch.
Images via Getty.