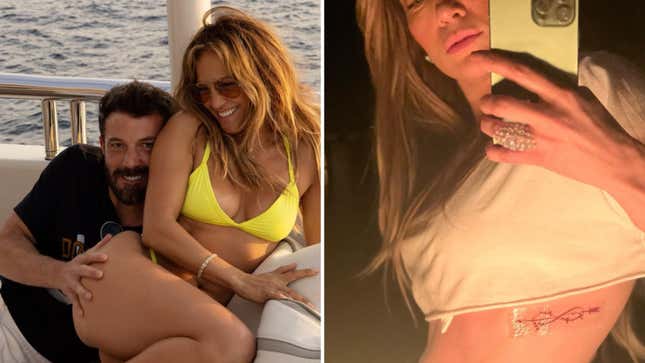 Reunited vintage Y2K couple Jennifer Lopez and husband Ben Affleck have been everywhere lately, from dopey Dunkin' Super Bowl commercials to looking "miserable" and spawning memes at this year's Grammy awards. Now, the duo are all over each other (again)...in ink.
To commemorate the couple's first Valentine's Day since their August 2022 marriage, Lopez posted a slideshow of photos on Instagram showcasing several current and old photos of them together alongside each of their corresponding tattoos. The caption reads:

Commitment ♾️Happy Valentine's Day my love 🤍 (Look for more deets on VDay coming #OnTheJLo soon…) #CommitmentIsSexy #ThisIsUsThen #ThisIsUsNow #ThisIsMeNow
I am not going to poke fun at JLo and Sad Affleck's act of devotion because I find it quite sweet and earnest (despite already fully understanding the level of their commitment due to the whole, you know, marriage thing). I will, however, drag them to hell for likely having some of the best and most expensive tattoo artists at their disposal and still choosing to put these Pinterest-ass designs on their bodies forever.

G/O Media may get a commission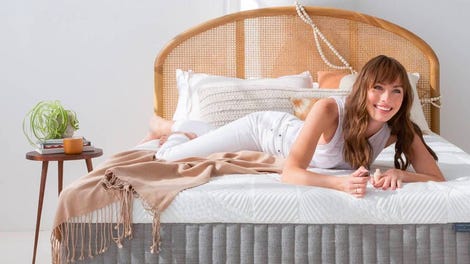 Sleep Sale
Sleep Sale - Brentwood Home
JLo got an infinity sign with an arrow through the middle on her ribcage with "Jennifer" written on one side and "Ben" on the other. Ben got two crossing arrows with a "J" and a "B" between them on his arm (I'm assuming this is also meant to represent something lame like star-crossed lovers). Guys, come on. You are both artists. JLo performed at the Super Bowl for fuck's sake; Ben is directing the upcoming film Air starring his A-list friends Matt Damon, Viola Davis, and Jason Bateman. There had to have been contenders other than arrows and infinity signs—symbols I would expect from a couple who had a perfectly curated and quaint wedding in a barn themed "farmhouse chic." Or from drunk prom teens getting Henna tattoos on Venice boardwalk.

Alas, they seem happy, so I shan't poke fun any further. As long as Ben isn't being held captive as content for "On the JLo," I support them fully. #CommitmentIsSexy

---