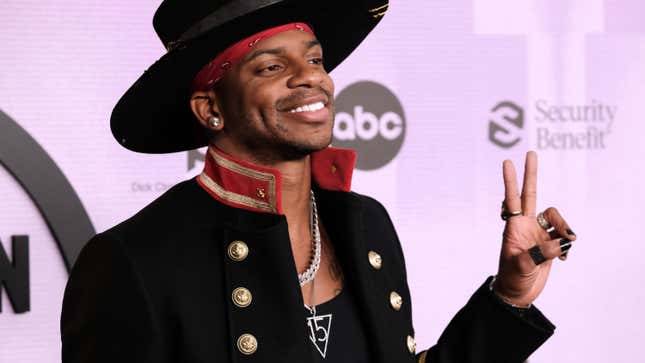 On Thursday, country singer Jimmie Allen's former manager filed a sexual battery lawsuit against Allen accusing him of rape, ongoing sexual harassment and abuse, and blackmail—all while Allen's pregnant wife files for divorce.

Taylor Lautner Doesn't Even Remember Saying 'Bella! Where the Hell Have You Been Loca?'
The suit alleges that Allen raped the plaintiff in the spring of 2021 on the evening of the singer's appearance on American Idol. According to the lawsuit, the plaintiff claims she had dinner with Allen and, despite drinking only two glasses of wine, she "does not remember anything after dinner that evening." She says woke up naked in a hotel room with Allen, who told her to take Plan B.
The plaintiff claims that over the course of 18 months while working for Allen, he "sexually harassed, openly and publicly by making comments about her status as a single female, her innocence, and how hot she looked," even doing so "from the stage, in front of the production crew and public audiences."
The suit, filed in the United States District Court of Tennessee, details further allegations, including that Allen once opened a pornography website on her work computer and would grope her and put his hand down her pants in the workplace. The plaintiff also claims Allen "videotaped multiple sexual encounters" between the two "in order to blackmail her to stay silent."
In addition to Allen, the suit also names the plaintiff's former employer, Wide Open Music, and the firm's founder, Ash Bowers, and claims the management company and Bowers were negligent and put the plaintiff in harm's way.
An attorney for Allen shared a statement from the singer with Jezebel, denying the allegations and claiming that he shared a consensual sexual relationship with the plaintiff, whom he referred to as one of his "closest friends, colleagues and confidants."
"I acknowledge that we had a sexual relationship—one that lasted for nearly two years. During that time she never once accused me of any wrongdoing, and she spoke of our relationship and friendship as being something she wanted to continue indefinitely," Allen said. He says his former manager made the allegations only at the end of their relationship after seeking and being denied money from him, calling the claims "not only false, but also extremely damaging."
The plaintiff denies these claims from Allen. An attorney for her told Variety, "The only ask we made of Allen and his legal counsel was to meet to discuss Allen's behavior and resolution of our client's claims. At no time did our client make a monetary demand." The response from Allen, the plaintiff's attorney said, "was a hard no, and colored with threats that his team would take steps to publicly tarnish my client. My client had no choice but to be proactive in protecting herself by filing the complaint."
On the same day that Allen's former manager filed her lawsuit against him, his wife, Alexis Gale, filed for divorce citing "irreconcilable differences," a move that comes weeks after the couple announced their separation. Allen has asked for joint custody of the couple's two young daughters, while Gale is currently pregnant with their third child. Gale has asked that the couple's shared children live primarily with her.
Shortly after Allen's former manager filed the suit against him, Variety reports that his label, BBR Music Group, suspended Allen. "In light of today's allegations against Jimmie Allen, BBR Music Group has decided to suspend all activity with him, effective immediately," the label said in a statement shared with Variety. The Country Music Association also confirmed to the outlet that it's removed Allen from his planned set at CMA Fest in June.
Just last year, Allen was nominated for best new artist at the Grammys in 2022, and won the Country Music Association Award for new artist of the year in 2021. The singer was set to be the commencement speaker at Delaware State University's 2023 graduation ceremony on Friday, but was dropped by the university shortly after the lawsuit and replaced by Rep. Lisa Blunt Rochester (D-Dela.).