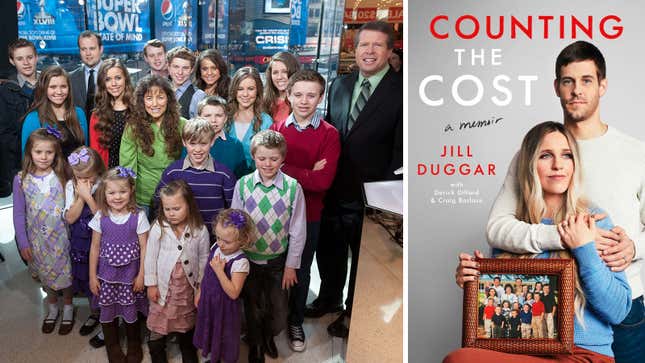 There are quotes and then there are quotes. I'd say the one in the headline qualifies very much in the latter category. It's from Duggar family defector Jill Duggar's memoir, Counting the Cost, which is out today. For years, Jill was featured on the Duggar family's various TLC specials and shows, including 19 Kids and Counting, which was canceled in 2015 after news broke that the humongous family's eldest son, Josh Duggar, had molested five underage girls, including some of his sisters (Jill was one of them). The show was rebranded as Counting On and ran for a few more years. Josh Duggar was eventually convicted of receiving child sex abuse material and is currently serving a 12-year sentence in prison.
Jill, having been the sole child of patriarch Jim Bob Duggar and Michelle Duggar to appear in the documentary Shiny Happy People, is one of the more vocal members of the clan to have broken with it. The doc, which streamed on Prime Video earlier this year, interrogated not just the dark side of the Duggars but of the Institute of Basic Life Principles, the religious organization that the Duggars evangelized on their show. In it, Jill described her upbringing as a "cult-like environment" and said that Jim Bob's condition after being approached by TLC was: "We will do this documentary as long as you don't edit out our faith." She also alleged that she was screwed out of money for her years of participating in all the TLC shows.
This brings us to her book, Counting the Cost, which is not just a source of income but an apparent outlet for her resentment over her family's alleged treatment of her. In a preamble to an excerpt from the book, People writes: "Among the book's most explosive revelations is how she and her husband, Derick Dillard, clashed with family patriarch Jim Bob Duggar, accusing him of financial improprieties in how he shared (or failed to share) money from the show with the family members whose lives were documented on-screen."
People also ran an excerpt from the book from which the quoted text in the headline derives. In the scene, Jill and her husband Derrick meet with Jim Bob and Michelle in front of a mediator. Tensions have risen to the surface, and they're evident in the family members' interactions. Jim Bob confronts Jill for sending him a text message claiming he was verbally abusing her: "You sent me a text message, Jill. You said I was verbally abusing you. I was so offended by that, too. You know in your heart that's not right. Are you going to apologize for that?" Jill describes a mounting fury upon realizing she had no plans to apologize. She describes him "towering" over her and stabbing a finger at her and claiming that her guilt was what led to her tears. And then:
"You want to know why I'm crying?" My voice was cracked, my eyes burning. "It's that you think I'm some kind of horrible person just because I wear pants and have a nose ring, and yet you see that girl outside and praise her. That's why I'm crying, Daddy. I'm evolving and changing, just like that girl out there, but you can't see it. You treat me like I'm a prodigal who's turned her back on you. You treat me worse than you treat my pedophile brother."
It cuts there because, of course, it does. Jim Bob and Michelle released a statement to People: "We love all of our children very much. As with any family, few things are more painful than conflicts or problems among those you love. ... We do not believe the best way to resolve conflicts, facilitate forgiveness and reconciliation, or to communicate through difficulties is through the media or in a public forum so we will not comment."
Rather convenient that a family that spent years and years parading their happy life and ample fertility in front of cameras is now media shy, don't ya think?