While promoting her 12th (12th!) album, Jewel sat down with The Hollywood Reporter to discuss her long career and the fact that she's been harassed by men for just about all of it. She refers to the music industry as "a very male-dominated business," but says she "never slept [her] way to the top."
"There was never one time I've ever compromised anything. I was always willing to walk away...You know, I've heard plenty of stories that the opposite happens. I saw what women would give up for a compliment. I felt men were willing to take advantage if they saw something vulnerable."
Jewel then reveals that men have been hitting on her since she "was really young." And by "really young," she means 8.
"At 8, I had men putting dimes in my hands saying, 'Call me. It'd be so great to f— when you're older.' And just horrible stuff."
[THR]
---
Here's what an insider told The Hollywood Life about Drake, Serena Williams, and Nicki Minaj:
"Nicki thinks...that the only reason Drake's with her is because he can't have Nicki. Nicki's just calling it like it is. Drake likes strong, powerful and intelligent women, who are thick with a big bubble butt. And since he can't have the body goddess, Queen Nicki herself, he's going after the next best thing."
G/O Media may get a commission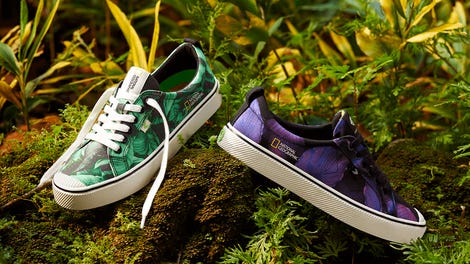 New New New
Cariuma + National Geographic
Look, I don't believe this item for a second, but I love how chatty the source is.

Less is more, anonymous gossiper. Be more succinct next time, and try not to use phrases like "body goddess" unless it's absolutely necessary.
[THL]
---
This year's Miss America pageant doesn't air until Sunday, but it's already a complete disaster. Vanessa Williams, who'll be making an appearance, apparently thought she would be given an official apology for that time they treated her like dirt and stripped her of her crown. But that was never the case.
Writes TMZ: There was a meeting Wednesday between Vanessa's people and the organization and it all hit the fan, because the Miss America people were under the impression Vanessa would apologize for her actions, and then they would give her the crown.
Don't let them do that to you, Vanessa! No crown is worth having to apologize!
[TMZ]
---
---
Contact the author at bobby@jezebel.com.