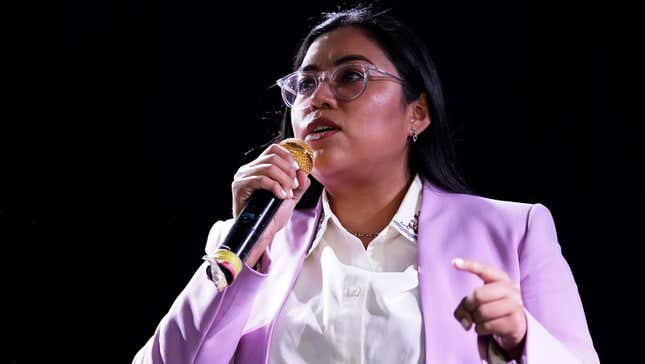 Tuesday, March 1,  marks six months since the dystopian Texas abortion ban went into effect. It also marks the primary election rematch of 28-year-old immigration and human rights attorney Jessica Cisneros against Texas Rep. Henry Cuellar, a nine-term incumbent and the last anti-abortion Democrat in the House of Representatives.

The Fight For Abortion Rights has Reached New Heights
The last time these two faced off in a primary, she nearly ousted him. Cisneros came within 2,700 votes of beating Cuellar in 2020, winning 48.2 percent of the votes to his 51.8 percent. A lot has changed since then: The covid-19 pandemic has killed close to 1 million Americans and left millions more struggling to pay their bills, and Roe v. Wade is in extreme peril and is already meaningless for most people seeking abortions in Texas.
In late September, Cuellar voted against the bill that would codify the right to have an abortion into federal law—making him the only Democrat to do so. That Cuellar took this vote against the Women's Health Protection Act (WHPA) several weeks after SB 8 went into effect—a bill that provided a real-world example of what's at stake for people in his district, and across the US—was beyond the pale to Cisneros.
"Who is he to say what we can do with our bodies or what we can't do? Because it's honestly a decision that he's never going to have to make," Cisneros told Jezebel. "We need to allow folks that can be in that situation to make decisions over our own body as a fundamental human rights issue."
WHPA would make bans like SB 8 illegal. The Senate will vote to open debate on WHPA today but, without eliminating the filibuster, it cannot get the 60 votes needed to pass.

Cisneros is seeking to represent District 28, which runs through the San Antonio suburbs and south to Laredo and several miles along the U.S.-Mexico border. The South Texas district is majority Latino and majority Catholic, but Cisneros isn't deterred by stereotypes that voters like the ones in her district oppose abortion rights: She's running unapologetically in support of abortion rights and even changing a few minds when knocking doors.
"Usually we hear, 'I probably wouldn't choose to have an abortion, but I feel uncomfortable making that decision for other folks,'" she said. "We've been having these conversations in English and Spanish, and part of that has been giving people the vocabulary, where it's like, 'Oh, well, if you believe that, you're pro-choice.'"
Maybe people haven't talked about abortion with people outside their family, and laws like SB 8 have made some people even more skittish—and that was deliberate, she said.
"This bill was passed by design to stop people from talking about abortion and actually getting the care that they need," she said, adding, "anti-choicers like Cuellar obviously benefit from keeping conversations like this stigmatized, so it's been great to see the progress that we've been able to make [with voters]."
If Cisneros pulls off the win in a South Texas district, it will be all the sweeter. "To be able to go back and say, 'No, we actually ran an unabashedly pro-choice campaign and won here'—I think that would be a very powerful testament."
Her opponent is also in some hot water, which could boost her chances. In January, the FBI raided Cuellar's home and campaign office as part of a federal probe into connections between US businesses and Azerbaijan. Cuellar said in a statement that he was cooperating with investigators. House Majority Leader Steny Hoyer (D-MD) endorsed Cuellar the day of the raid. House Speaker Nancy Pelosi supported him in 2020 but has not made an endorsement in the race. Cuellar's first public appearance after the raid was to receive the Legislator of the Year Award from the anti-abortion group Democrats for Life of America.
Meanwhile, Cisneros has racked up endorsements from Indivisible, the Working Families Party, Sunrise Movement, and Senators Elizabeth Warren (D-MA) and Bernie Sanders (I-VT). She's backed by Justice Democrats, the progressive group that supported Alexandria Ocasio-Cortez in her long-shot 2018 primary campaign, and is hoping the second time's the charm. Both Cori Bush (D-MO) and Marie Newman (D-IL) lost their first races before being elected in 2020. The Justice Democrats backed both of those winning campaigns.
"It's incredibly validating to be able to point at a number and be like, 'We almost defeated a 15-year incumbent with our shoestring budget,'" she said. "Obviously it would have been great to win outright, but we knew this was potentially going to be a four-year project."