Woman of the Fudge Jessica Biel (wife of Man of the Woods Justin Timberlake) has finally shuttered her chocolate shop/brunch hotspot/short-term daycare center Au Fudge after realizing chocolate shops/brunch hotspots/short-term daycare centers aren't too good at making a profit.

The first Instagram post reads:
Thank you for so many years of support. Tomorrow is our last day open at the restaurant, but more things to come from Au Fudge. As of Monday, July 16, we will be open for private events.
Weird that she "two" = "so many," but let's not dwell. The second Instagram post reads:
Today is our last day of regular business hours at Au Fudge the restaurant. We are still available for private events and @aufudgecamp is only a few blocks away! Thanks for all the support.
G/O Media may get a commission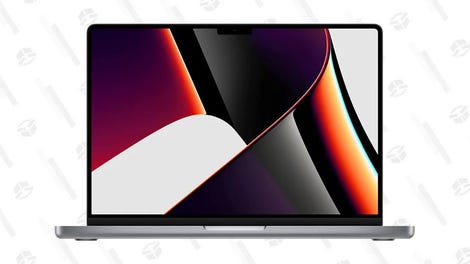 Save $300
2021 14" 1TB MacBook Pro
And just like that—after "so many" Instagram posts—the Au Fudge we've known and loved ceased to exist. For those of you who have somehow forgotten what this place actually was, allow me to quote an LA Weekly piece published soon after it opened:
Au Fudge is more than a restaurant, it is practically a full-fledged nursery school, albeit one that you can only use for a couple of hours at a time. For $15, children older than 2 can hang out in Au Fudge's "creative space" for two hours, where au pairs will supervise them while parents eat. For kids younger than 2, dedicated au pairs are available for hourly hire. There's also a full schedule of classes for kids, some meant to be taken along with parents and some designed so that parents can drink cocktails in the adjacent restaurant while kids sing karaoke, decorate cookies or learn etiquette so you can maybe one day take them to a regular restaurant. There's also a shop with all manner of adorable merchandise, such as a $100 Au Fudge lunch box set, or a $45 trucker hat emblazoned with the slogan: GET FUDGED UP.
And now, a quote from a recently published Yelp review:
Regarding the play area: It was very clear to see that it was poorly maintained. Everything just looked really banged up. Half of the lightbulbs were out, the pillows looked like they had never been washed and the toys were all grimy and dirty. Such a shame, because it was a beautiful room. It's very clear to see that they weren't making any effort in keeping it nice.

The nannies absolutely sucked. We spent $15 for one hour to watch them play Jonas brothers and sing to the lyrics and discuss the latest band updates. The only thing useful they seemed to do is clean up the toys after my daughter walked away for half a second. They didn't make any effort to interact with the kids.
"The restaurant business is way harder than being a producer," Biel said on Jimmy Kimmel Live last year. "[We're] definitely not making money. Nobody's making money in the restaurant business, in my experience, at least not yet." The good news: Scarlett Johansson's Yummy Pop is still open for business.
---
And now, a gentle reminder to read Lainey Gossip. On Monday they published a piece Justin Bieber's fraught relationship with Hillsong founder Carl Lentz, and his is the most important bit:
Remember those photos of Justin getting super emotional during a phone call? They were posted on July 12. TMZ posted the video of Carl's reaction to the engagement on July 13. By all accounts, both Justin and Hailey's families are happy and there's no drama there. So who was on the other end of that intense conversation? Justin is riding high right now – only something very important and very personal could cause that kind of sidewalk angst.
What's going on with Carl and Justin? Read their whole breakdown of their relationship here.
---
Blake Shelton fell onstage at a recent concert and blamed it all on drinking too much. Ha ha ha!!!
---