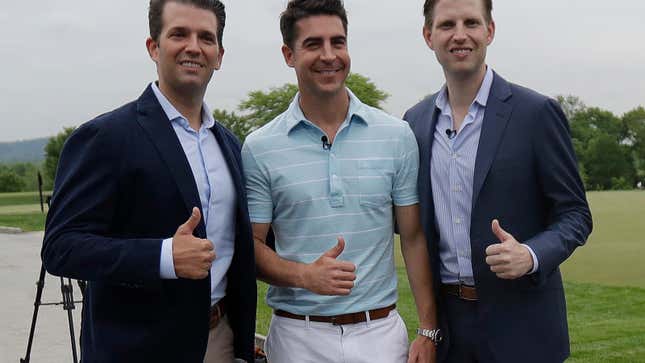 Jesse Watters? Jesse Watters of Fox News? Why, I haven't heard that name in years. Something about an Ivanka Trump blow job joke? I've stuffed that one entirely down my memory hole.
Anyway, here's confusingly bravado-filled Fox marionette Jesse Watters again, choosing a radically stupid wife metaphor to talk about his love for America. Adding to the baseline idiocy already at work here: Watters finalized his divorce from his own wife last year, in the wake of a much-publicized extramarital relationship with a Fox News associate producer.
Watters joined the Fox and Friends this morning to get showily mad about Democrats — particularly Reps. Alexandria Ocasio-Cortez and Ilhan Omar —trying to change his number one lady, the Miss U.S. of A.
"If you love something, you don't radically transform it," he told Fox Friend Steve Doocy. "Like your wife. She doesn't make you love ballet. She doesn't make you grow your hair long and smoke dope. She likes you how you are. A straight-edge nice American boy. That's what the Democrats are doing. They're trying to open the borders, destroy capitalism, institute socialism, ban hamburgers. And that's not very American, and we're not gonna let them do it."
In the best relationships, you reportedly remain married to your wife Noelle while you begin dating a 25-year-old associate producer on the show you work on, you inform the network of that fact only after your wife files for divorce, and your girlfriend is transferred to work for Laura Ingraham. A beautiful metaphor all around.