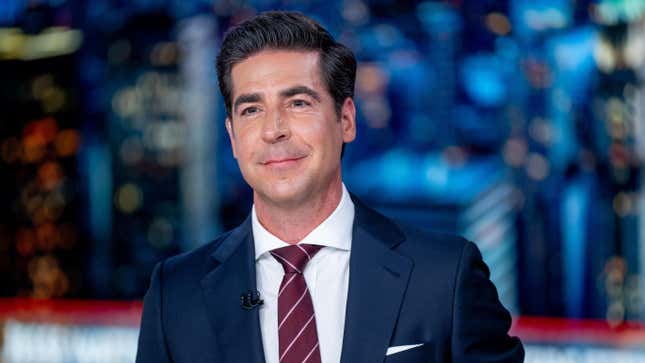 Jesse Watters officially took over Tucker Carlson's former Fox News slot on Monday night. Where one fear-stoking racist newscaster once sat, another shuffles in—an extremely anti-life affirming circle of life. And to kick off his inaugural 8 p.m. Jesse Watters Primetime show, Watters' mother, a registered Democrat, called in to give him some advice.
"Congratulations, honeybun. We are so proud of you and your accomplishments ... Now let's aim to have you keep your job. And to that end, I do have some suggestions," Anne Watters said over the phone. She continued:
"Do not tumble into any conspiracy rabbit holes. We do not want to lose you and we want no lawsuits.... In keeping with the Hippocratic Oath, do no harm. We need you to be kind and respectful."

"Use your voice responsibly to promote conversation that maintains a narrative thread. There really has been enough Biden-bashing, and the laptop is old,"

"Perhaps you could suggest that your people take less interest, for example, in other people's bodies, and talk about that."
Now, the Watters matriarch has certainly undertaken a noble task, trying to keep up loving communication with her absolute shitbag of a son. And it's a task that extremism experts like the Anti Defamation League recommend you try to do, rather than cut off the person in your family who may be peddling conspiracy theories on primetime cable. I mean, I wouldn't personally say I was "so proud" of my son if he was Jesse Watters, but I do think she means well there.

But this is an ongoing bit—Watters' mother has been a regular fixture on his show since before he replaced Carlson. He likes to share her concerned texts and voicemails and chuckle along as if she's simply reminding him to bring his raincoat rather than, you know, asking him not to drive what remains of our democracy off a cliff. And his jovial reaction to her admonitions about his actual extremist propaganda—using the cliché of an overbearing liberal mom as a punchline—drives me fucking bonkers.
So while I commend Ms. Watters for trying to maintain any kind of relationship with her son and voicing her (supposed) disapproval of his cruel transphobic, racist, and conspiratorial messages—presuming she didn't have any hand in making Jesse the man he is—it's too late. She is already made herself the butt of a joke by a man who also mocks Asian-Americans to their faces in Chinatown and demeans unhoused people for laughs on TV.
I'm sure Fox News watchers aren't taking any of Ms. Watters' nuggets of liberal wisdom to heart. So unless she has anything useful to contribute—say, convincing her son to retire early to spend more time with her—perhaps it's time she just retire this deeply unfunny bit.