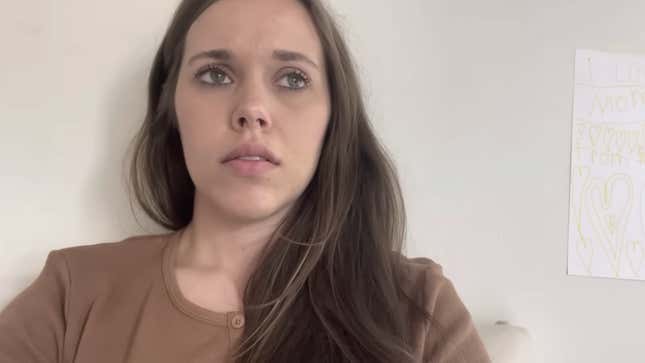 Over the weekend, Jessa Duggar Seewald shared the story of how her fifth pregnancy ended: The pregnancy was no longer viable and needed to be treated with an abortion. Except, Seewald didn't call it an abortion.
"We decided to go the hospital, get checked in there and go through the process of a D&C," she explained in a Youtube video, only naming the method —dilation and curettage—when talking about her hospital stay. After multiple outlets, including Jezebel, published stories explaining how D&Cs are abortion procedures, Seewald posted a Notes App statement to her Instagram story Monday night, doubling down on her belief that her abortion procedure wasn't an abortion.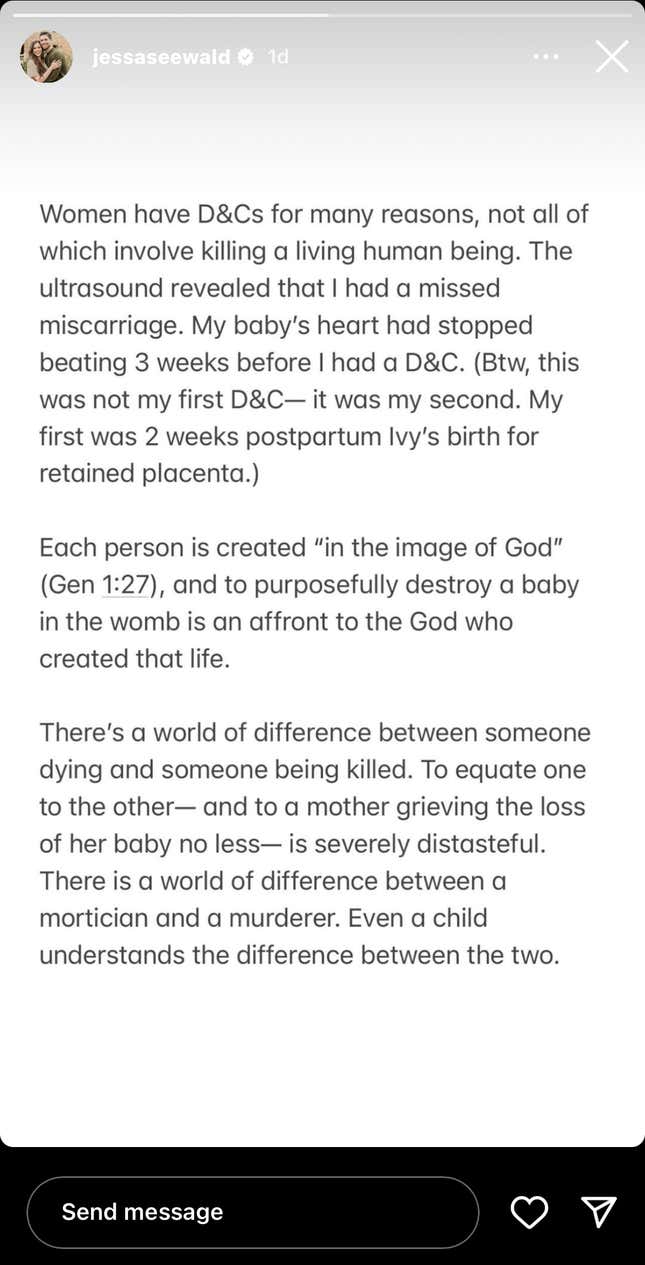 "Women have D&Cs for many reasons, not all of which involve killing a living human being. The ultrasound revealed that I had a missed miscarriage," Seewald wrote. "My baby's heart had stopped beating 3 weeks before I had a D&C. (Btw, this was not my first D&C- it was my second. My first was 2 weeks postpartum Ivy's birth for retained placenta.)"
G/O Media may get a commission
25% Off
Coleman SaluSpa Inflatable Hot Tub Spa
In addition to including five words from a Bible verse (Genesis 1:27) that say nothing about God not wanting women to have reproductive freedoms, Seewald called coverage of her abortion "distateful" and added that "there's a world of difference between someone dying and someone being killed."
Seewald took a lot of words (148 to be exact) to say she was provided a treatment that would have been denied to others in her state (Arkansas) because she has the privilege of health insurance and fame behind her. It's what one abortion provider called the "Me Exception." Abortion for me, not for thee.
Here's a sampling of people who've been denied abortion care after having a miscarriage since Roe v. Wade was overturned:
Christina Zielke, a Washington, D.C. resident, was in Ohio in September for a wedding when she started "passing blood clots the size of golf balls." She was bleeding so much that she filled her parents' bathtub with blood in the middle of the night. But doctors quickly released her from the ER—despite the fact that she was still filling up diapers with blood—because they couldn't offer her a D&C until they confirmed the fetus had no heartbeat. At the time, Ohio's abortion ban that prohibits abortion after six weeks was in effect.
Jill Perry Hartle was forced to carry her unviable fetus for 49 days in July because, in South Carolina, her fetal anomaly wasn't detected until her 18- and 22-week anatomy scans. Because the state had certified its own trigger ban, making abortion after 22 weeks impossible, she was forced to travel out of state.
Amanda Eid's water broke at 18 weeks in Texas in July, but doctors said her life-threatening risk wasn't life-threatening enough. Yet. They instructed her to monitor for signs of infection and come back. Within three days she spiked a 103-degree fever and was unable to walk, which was finally life-threatening enough for doctors to perform an abortion. Afterward, she developed what was probably sepsis, spent time in the ICU, and is likely now infertile.

Mylissa Farmer's water broke at 17 weeks in August. The 41-year-old Missouri woman was at high risk of pregnancy-related complications like sepsis, uterine loss, and death. The doctors treating her recommended an abortion but, because she lived in Missouri—where abortion is banned with limited exceptions—there wasn't a clinic that could treat her. She called her state senator to help and he sent her to an anti-abortion crisis pregnancy center, which didn't help her obtain an abortion. "The thing [a doctor] said was, 'There are things worse than death, and I have seen it,'" Farmer recalled.
These are just a handful of the stories from people in low or no-access states who have been denied the safe and easy abortion care that Seewald was given. Seewald said that since she has a history of hemorrhaging, it was best to have the D&C—but what she still fails to realize is that plenty of women have been in her position, but were sent home because their life wasn't in-danger enough yet for doctors to risk getting in trouble under their state's harmful anti-abortion laws.

In her original YouTube video, Seewald said two crucial words: "We decided." Seewald is so lucky to have been trusted to make the best medical decision for herself. Since Roe was overturned, women in anti-abortion states are no longer afforded that right.