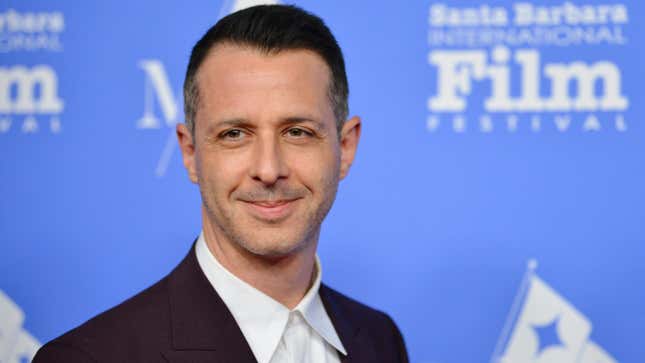 With Succession Season 4 slated to premiere roughly a month from now, Jeremy Strong is talking to the media again, over a year after a contentious New Yorker profile on his intense approach to method acting rendered him social media's main character for a few days in 2021. Well, fret not: While Strong told GQ in a new profile this week that the New Yorker piece, his Succession co-stars' comments on his commitment to the bit, and the general public reaction definitely affected him, he remains pretty much as weird as ever.
"Should we follow that sound?" Strong asks the GQ writer, basically inviting him to trail a honking goose in the pasture of a small English village. Strong also tells the writer he only wears the color brown to be "monastic chic."
Recall that in the New Yorker piece, Strong detailed how seriously he takes his job of portraying tortured nepo baby Kendall Roy on Succession. The stakes, he said, are "life and death." He never breaks character and doesn't rehearse with his co-stars to ensure every scene feels like "encountering a bear in the woods." Some of his co-stars, including on-screen brother Kieran Culkin, have expressed concern that his intense approach might take a toll on his personal life. Social media users mocked Strong for sounding difficult to work with.
To GQ, he further described his emotions about the piece with a string of poetic nonsense: "The shadow is the part of ourselves that we don't want to share with the world and we want to disavow. The part of me that is striving. The part of me that wants what I want."
Ultimately, it seems the 2021 media circus buzzing about what a weirdo Strong is—eventually prompting former co-stars Jessica Chastain and Anne Hathaway to come to bat for him—doesn't seem to have changed the actor. He remains true to his very odd self, and…good for him?
The quirky little insights of his GQ interview pair well with Strong's "10 Things I Can't Live Without" video, a GQ tradition typically reserved for—as Vulture put it—"promoting products and feigning intimacy by showing viewers a glimpse into your personal life." In lieu of skin serums and family photos, Strong instead walked viewers through a lengthy tour of the varying "artifacts" of his career, raising ever more questions about who he is—if anyone at all—outside of acting and his over-zealous approach to his craft.
Of course, through all these revelations about the actor and his continued oddness in the face of social pressure, what's drawn more attention than anything is back-and-forth between Strong and his co-stars—namely Brian Cox, who plays Strong's on-screen father in Succession. In 2021, Cox said of Strong's reliance on method acting: "It's a particularly American disease, I think, this inability to separate yourself off while you're doing the job. The result that Jeremy gets is always pretty tremendous. I just worry about what he does to himself. I worry about the crises he puts himself through in order to prepare." And speaking to Town & Country for a profile out this week, Cox praised Strong's talent, but called his approach "fucking annoying."
In response, Strong told GQ that "everyone's entitled to have their feelings" and Cox has "earned the right to say whatever the fuck he wants." As for Cox's observation that "there is a certain amount of pain at the root of Jeremy," Strong suggested that his co-star doesn't really know him at all: "There's certainly a lot of pain in Kendall, and I haven't really met Brian outside of the confines of that." He continued: "I feel a lot of love for my siblings and my father on the show. And it is like a family in the sense that, and I'm sure they would say this, too, you don't always like the people that you love. I do always respect them."
I have to wonder if all of this is just a coordinated publicity stunt to promote Succession Season 4 by foreshadowing how all of Cox's on-screen children are about to go to war against him. If so, it certainly caught my attention!