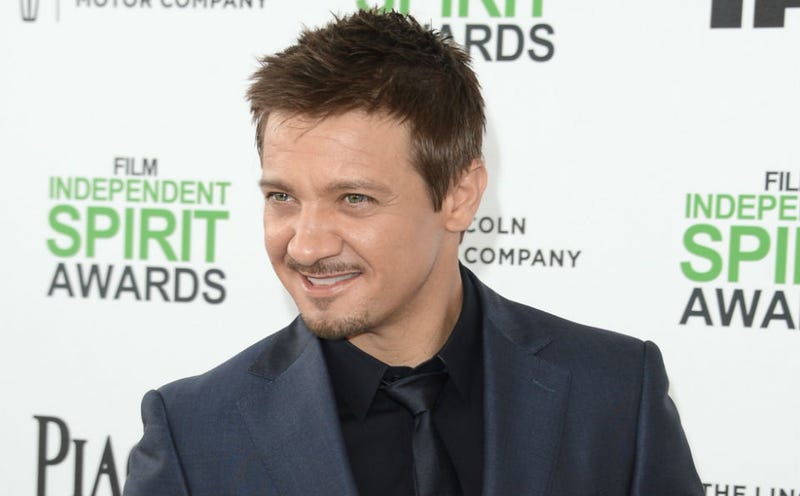 Jeremy Renner and his wife Sonni Pacheco are divorcing.
After less than a year of being married, Avengers star Renner and Pacheco have called it quits. (Brace yourself for a lot of terrible Hurt Locker jokes on the gossip blogs while this plays out.) Celebrity divorce blog TMZ has all the details.
The couple just copped to their secret marriage back in September ... and every indication is the break-up will be nasty. In her divorce docs ... Pacheco says they have a prenup, but adds it should be torn up because it was based on fraud. There's no further detail about what she means by "fraud."

Pacheco wants the moon ... she's asking for spousal support and physical custody of their 1-year-old daughter, Ava Berlin. She's also looking to use the Range Rover until the smoke clears, and for Renner to pony up her rent and moving expenses.
Love is just a fragile bird you try to care for in a box under your bed so your mom won't see and then one day you realize why your mom told you couldn't keep animals in boxes under your bed in the first place. It's best to just let it go and realize it's not going to grow stronger, teach you a secret language and let you rule by its side in the magical kingdom of Birdtopia.
[TMZ]
---
Here is Meryl Streep hanging out with Usher and Tyrese, as one does.
They are all at the Kennedy Center Honors. What are you up to tonight? Watching The Bad Girls Club with your sick cat? Yeah. I'm DVRing that.
---
Katie Lee Gifford would please like Bruce and Kris Jenner to reunite. "You know, I'm godmother to the two younger Jenner girls," she said in a Q&A for Buzzfeed. "I don't like to see families break up."The assimilation of Kathie Lee into the world of the Kardashian-Jenner-Wests is a natural conclusion to 2014,a year which brought us pretty much the Apocalypse of garbage and shit a lot of interesting things. [Buzzfeed]
---
Cavanaugh was also the voice of Marty in one of my favorite shows of all time, The Critic. Here is an episode that featured Marty and his struggle to get a date. RIP.
Image via Getty.