After private nude photos of Jennifer Lawrence leaked in 2014 (as part of the so-called "Fappening"), the actor characteristically didn't mince words when reflecting on what went down. "It is not a scandal. It is a sex crime. It is a sexual violation," she told Vanity Fair. She also described how it left her reeling. "I can't even describe to anybody what it feels like to have my naked body shoot across the world like a news flash against my will. It just makes me feel like a piece of meat that's being passed around for a profit," she said.
Ana Gasteyer Satirizes the Girl Boss in 'American Auto'
She told 60 minutes that her role in Red Sparrow, though, helped her heal. In an interview that ran on Sunday's episode, Lawrence said:
I read this script that I'm dying to do. And the one thing that's getting in my way is nudity. And I realized there's a difference between consent and not. And I showed up for the first day and I did it. And I felt empowered. I feel like something that was taken from me I got back and am using in my art.
60 Minutes' Bill Whitaker then asked if the photo leak "vaporized" as a result of Lawrence's consensual on-screen nudity. "It didn't vaporize," she said. "But I did feel like I took the power out of—out of having my—my body taken from me. I felt like I—I took it back and I could, and I—and I could almost own it again."
"It's my body and it's my art and it's my choice," she added. "And if you don't like boobs, you should not go see Red Sparrow."
G/O Media may get a commission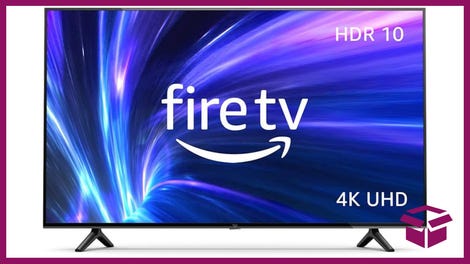 42% Off
Amazon Fire TV 50" 4K Smart TV
During the 13-minute feature, Lawrence also commented on Harvey Weinstein: "He was never inappropriate with me. But what he did is criminal and deplorable. And when it came out and I heard about it, I wanted to kill him. The way that he destroyed so many women's lives. I want to see him in jail."
And, it seems, she still blames herself for making less than her male co-stars in American Hustle, as she wrote in Lenny in 2015. "I didn't fight hard enough. It was my own mentality that led me to believe that I didn't deserve to be paid equally," she told 60 Minutes. But that's changed, now Lawrence says, "I feel I know my worth, and I feel like I work to keep it that way." She acknowledged that given the "fickle" nature of Hollywood, the work may not pay off:
If the next few movies don't—don't do well in the box office, I won't—I won't—I won't get paid the same. That's the way it works. If you can't prove that you— that you deserve that number, then you're not gonna get it. So it's very fickle. So I don't want to sound like I'm on a high horse, 'cause I might be on a tiny little Shetland pony in a month.