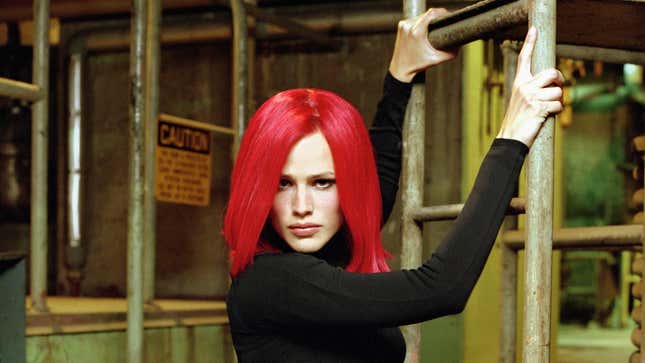 On Tuesday, Allure dropped a new profile of Jennifer Garner, the award-winning actress and baby food entrepreneur. The photos are great! But one section of the profile jumped out at me, a noted longtime Garner fan: Garner's children don't watch her work. They only like watching Ben Affleck.
"They don't mind watching their dad, but they kind of want me to be their mom. They don't want to see me upset and women cry more in what we do," she told the magazine. "And they don't really want to see me in a romantic thing."
Well, have I got great news for the Garner-Affleck kids. Their mom's best work, Alias, has everything they could want in a Garner-viewing experience: Minimal romance and enough wigs to make them forget that they're watching their mom.
This spy thriller primetime television show was created by J.J. Abrams—who was fresh off his run as co-creator of Felicity—in September 2001. (To our younger readers, these words probably make sense in that it's an English sentence with correct grammar, but to people of a certain age that set of facts will make your head spin.)
Yes, there is some romance because it couldn't just be a show about a double agent for the CIA working to bring down SD-6, a worldwide criminal network. But it's mostly about spying and friends.
And Garner committed to the bit as Sydney Bristow. There's a reason this is an award-winning show (according to the Golden Globes) led by the multi-Emmy-nominated Garner. She knew what she was doing. And honestly, I think a lot of the reason is because Garner knows how to wear the hell out of a wig.
So here are my wig-based reasons for watching your mother's seminal work. Happy Alias-bingeing!