A reboot of Friends is not likely to happen, and it's not even possible unless at least, like, six people really want it to, but then there's Jennifer Aniston with an interview in InStyle and she's talking about it again.

To be fair, she was asked. The interviewer, Molly McNearney (who is married to Jimmy Kimmel, and a head writer on his show, which resurrected Monica's apartment for a special fan fiction scene in 2014), asked Aniston, "What about Friends? Will Friends ever come back?" To which Aniston, who played Rachel Green on the NBC show throughout its 10 seasons, replied (emphasis mine):
"Before that show ended, people were asking if we were coming back. Courteney [Cox] and Lisa [Kudrow] and I talk about it. I fantasize about it. It really was the greatest job I ever had. I don't know what it would look like today, but you never know. So many shows are being successfully rebooted. I know Matt LeBlanc doesn't want to be asked that question anymore. But maybe we could talk him into it. Or we just give it some time and then Lisa, Courteney, and I could reboot The Golden Girls and spend our last years together on wicker furniture."
Come for the scary Friends revival rumors, stay for the pointed dismissals of Aniston's sexist haters. Here's Aniston again:
"I've definitely had my fair share of sexism in the media. Women are picked apart and pitted against one another based on looks and clothing and superficial stuff. When a couple breaks up in Hollywood, it's the woman who is scorned. The woman is left sad and alone. She's the failure. F that. When was the last time you read about a divorced, childless man referred to as a spinster?"
G/O Media may get a commission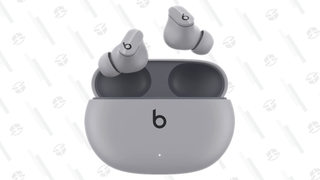 Okay good for her. F a lot of thing. Most, if you ask me. Including more Friends.