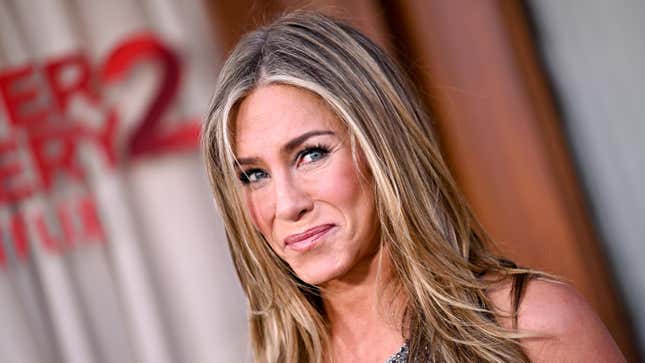 This just in: Cancel culture has been found dead in a ditch, honey!

In a new cover story published Tuesday by the Wall Street Journal Magazine, Jennifer Aniston shared a scintillating revelation: "I'm so over cancel culture."
The actress's disavowal of one of the internet's arguably inconsequential trends came virtually unprompted. In fact, just preceding it is a heap of admiration from her The Morning Show co-star, Jon Hamm. "She just handled it with such grace and as much humor as you can," the actor recalled of shooting a scene on a bustling, paparazzi-polluted street. Somehow though, the conversation turned to the largely imaginary phenomenon known as cancel culture.
"I probably just got canceled by saying that," Aniston followed up after condemnation. "I just don't understand what it means.…Is there no redemption? I don't know. I don't put everybody in the Harvey Weinstein basket." Brave!
Then, Aniston goes on to recall Weinstein's well-documented reputation as a predatory bully: "He's not a guy, you're like, 'God, I can't wait to hang out with Harvey.' Never. You were actually like, 'Oh, God, OK, suck it up,'" she recalled. "I remember actually, he came to visit me on a movie to pitch me a movie. And I do remember consciously having a person stay in my trailer."
Hilariously, Weinstein commented to WSJ Magazine that Aniston "never had any uncomfortable instances" with him.
All of this summons to mind an email Weinstein wrote about Aniston on Oct. 31, 2017. "Jen Aniston should be killed," the convicted sex pest declared in response to a reporter seeking comment about a meritless allegation that he'd groped Aniston. The email became public when court documents were unsealed just before Weinstein was sentenced to 23 years in federal prison on rape and sexual assault charges during his New York trial back in 2020.
I'm glad Aniston has seemingly worked through this very real, potentially traumatizing death threat enough not to put every man in Hollywood in the "Harvey Weinstein basket."
Elsewhere in the interview, Aniston ruminated on relationships, her rule for maintaining a safe set (Olivia Wilde's patented "no assholes"), and the pitfalls of being one of the world's most famous white women in 2023, while very much sounding like a white woman known only to her Facebook friends in 2014.
"There was a time in my world, my career, where I realized it's not being aggressive or combative or bitchy or emotional to stand up for what you deserve and what you want," Aniston said. "It's a tough muscle to build. And also be loved and respected. It's hard to achieve."