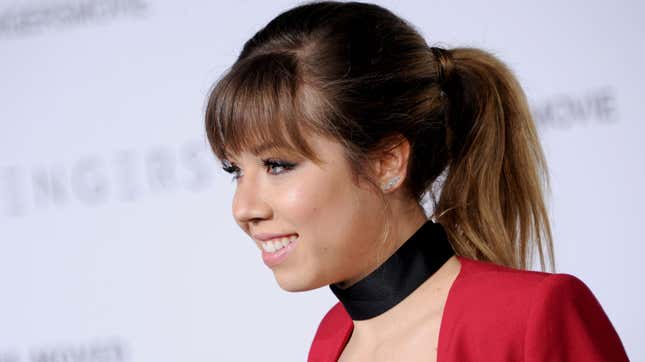 As Jennette McCurdy continues the book tour for her 2022 memoir I'm Glad My Mom Died, she offered new details this week about how her mother, Deb, physically and emotionally abused her. Speaking to British documentarian Louis Theroux on his podcast, McCurdy said her mom showered with her through the age of "17 or 18" and routinely performed unwanted breast and vaginal exams on her.

Jezebel's Crush of the Week: Jennette McCurdy
McCurdy told Theroux that she "idolized" and "adored" her mother growing up, and was "obsessed" with pleasing her—leading her to overlook her mother's clear physical and emotionally abusive behaviors. For example, her mother imposed disordered eating behaviors on McCurdy from a young age to stop her from growing; the two counted McCurdy's daily calories together and Deb routinely monitored her body for signs of growth. Deb was also a cancer survivor (until her cancer returned and she passed away in 2013), and used her perennial fear of her cancer returning to justify regularly examining McCurdy's body.
"She would give me breast and vaginal exams in the shower and said that she was checking for lumps, just checking for cancer," McCurdy said, specifying that her mother showered with her until she was about 17 or 18—and only stopped when McCurdy started going on tour and her mother wasn't with her as often.
These bodily exams, as well as their shared showers, caused McCurdy to feel "uncomfortable" and "violated," but her mother didn't react well to her asking for space: "I knew I didn't want it, but the one time I had attempted to even say, 'Hey, do you think I could shower myself?' she flew into hysterics and it just became clear to me, I can't ever try to shower myself again," McCurdy said. She attributed these behaviors to her mother's "fear of me growing," as well as a total lack of "boundaries" and a sense of "ownership" over McCurdy.

In McCurdy's memoir, she describes being forced by her mother to take showers with her older brother until she was 11 and he was about 16. On the podcast, she talked about a range of other inappropriate and harmful behaviors from Deb. In one case, she blamed McCurdy for her cancer coming back
after seeing paparazzi photos of McCurdy—then 18—with her boyfriend. McCurdy also recounted that growing up, her mother was constantly abusive toward her father, chasing him around the house with a knife on an almost "daily" basis.
Asked by Theroux about her mother's mental state, McCurdy referenced Deb's experiences surviving sexual abuse and living with eating disorders, and also divulged to Theroux what she's heard from her therapists: "They've said from a clinical perspective, they can't know for sure without meeting her, but that they think that she had narcissistic personality disorder, bipolar disorder, and borderline personality disorder, some combination or all of those."
McCurdy's memoir centers around both her fraught relationship with her mother, as well as how McCurdy's professional success as a child star impacted both their lives and the course of their relationship. In I'm Glad My Mom Died and on Theroux's podcast, McCurdy recounts at length how deeply in denial she was that her mother's behavior constituted abuse for years, even long after her death. She told Theroux that, at one point, she even stopped working with a therapist when they told her that her mother's behavior was abusive. "I just kind of kept clinging to, 'Oh, well Mom's doing this because it's what's best for me.'"