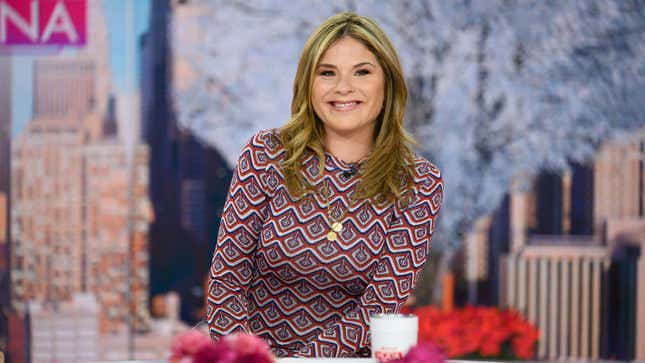 Jenna Bush Hager's NBC colleagues allegedly have their panties in a bunch over the Today show co-host, and it's shockingly not because she won't stop talking about never wearing underwear. It's also not because her dad is a war criminal, even though I, personally, am impressed by how easily she's avoided ever having to discuss that aspect of being the former president's daughter.
America's Favorite Pasttime: Dunking On Dr. Oz
Bush Hager has lent her aristocratic name to luxury bed sheets, an endorsement that goes against NBC guidelines. Boll and Branch is Bush Hager's bedsheet brand of choice and has a page on their website dedicated to the former first daughter's picks. "My bed is a place I like to spend a lot of time," she's quoted as saying on the site. "I wake up early, and I can't wait to get back in." Sounds exactly like something I say when my seasonal affective disorder is in full gear, but no one's knocking down my door to collab!?
"NBC News has strict policies about endorsement deals and this kind of Bush League behavior," a source who clearly has a penchant for puns told RadarOnline. "They don't want Lester Holt selling life insurance or Savannah Guthrie selling face cream. It tarnishes the entire news division's credibility."
I get their point and I would argue that Hoda and Kathie Lee getting wine-sloshed before noon, as fun as it looks, probably chipped away at the news division's credibility more than hawking fitted sheets. But these sorts of side endorsements are "against the rules" at NBC, though I wouldn't hold my breath waiting for Bush Hager to be reprimanded.
It's not immediately clear how Bush Hager got tangled up with the Boll and Branch brand. I snooped on the founders' LinkedIn profiles suspecting they might all be old college buddies, but alas, they weren't. I did find this 2016 Bravo.com article claiming that not only does Bush Hager sleep on Boll and Branch sheets, but so does President Bill Clinton??? I will wait patiently for the exposé on founders Scott and Missy Tannen's political connections.
---