As some people learned at Sunday night's Golden Globe Awards, Fences and Hidden Figures are two separate films with primarily black casts. Jenna Bush Hager and Michael Keaton made the mistake of mixing the two projects up and merging them into one incredibly poignant project that doesn't exist—Hidden Fences, otherwise known as that movie with all the black people in it.
While Bush Hager made the faux pas on the red carpet during an interview with Pharrell, Keaton did it on stage while presenting the award for Best Supporting Actress in a Motion Picture. Together, it was a rightful metaphor, besides being a familiar gaffe to black people who've been mixed up with that other black person at some point in our lives, and something simply worth cracking jokes about. (For more humor on this, search the hashtag #HiddenFences on Twitter).
Of course, Bush Hager and Keaton are now forced to apologize so that their mistake doesn't come across as offensive. "I had an error in the night, which I have to apologize for," said Bush Hager on this morning's Today show.
G/O Media may get a commission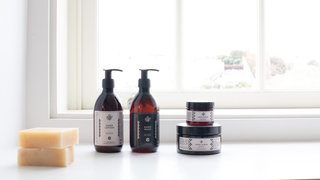 Exfoliate and Hydrate
The Handmade Soap Company
"When I was interviewing the incomparable Pharrell, who I adore, I accidentally—in the electricity of the red carpet, which I've never done one before—called Hidden Figures 'Hidden Fences.' I have seen both movies, thought they were both brilliant. I've interviewed casts for both of the movies and if I offended people I am deeply sorry."
Bush Hager added, "It was a mistake, because y'all know I'm not perfect. I am authentic, but a human. And what I didn't want to do is make anyone lesser than who they are. I apologize to both the cast, to Pharrell, but it was a mistake and I hope we can move on."
Keaton was also asked about the gaffe but appeared more lighthearted and honest about the reactions. After the Globes, when approached by TMZ, he said, "I'm sorry, I apologize, I screwed it up. Are they making a big deal?" He goes on to say, "I'm a horrible person." But, "I'm going to sleep pretty well."